Kapil Sharma caught by Canada police, fans' response shocked us!
Kapil Sharma is known for his entertaining show, "Kapil Sharma Show". This show began in India with a small number of people but its reach now expanded to international audiences such as Tornado, Canada, Newyork, USA and these eager fans not only supported him through online but even traveled far to be part of the Live set-show.
The Kapil Sharma show has series such as Comedy Nights with Kapil, Honey Bunny show, Family Time with Kapil Sharma and The Kapil Sharma Show. Though his comedic lines and comic acting gave him enormous love and support, he even expanded his career with movies such as Firangi, Kis Kisko Pyaar Karoon. Though the Kapil Sharma episode for his show has stopped, he is currently doing "Kapil Sharma Live" in all the international spots for his international fans. The dramatic scene took place after Kapil Show Live in Canada, his picture with two Canadian cops started to get viral!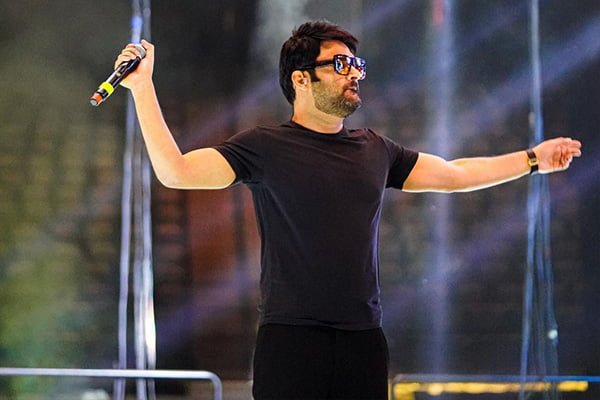 After Kapil Sharma live show, his viral selfie with cops got neitizen attention.
Kapil Sharma's live show in Canada, got him in trouble with cops? If this is your first thought looking at the selfie, you are not wrong. Kapil Sharma looked scared and nervous while clicking pictures with his fan cops. The picture was so entertaining that during his shows he posted this viral selfie, fans began a huge discussion on it. Have a look at their response.
A Kapil Sharma fan wrote, "Police ke samne sabke hath aise hi hojate hai hakkadi type". Another fan commented, Chupchap photo khincha lo Sir, varna dono bahut marenge. Fans did became sarcastic with their response to "Police viral selfie with Kapil"
Get the updates on Kapil Sharma Live show.
Kapil Sharma live show update
Beside this entertaining viral selfie, fans are looking forward to a Kapil Live Show update. As per social media post, Kapil and his team member which includes Sumona Chakravarti, Chandan Prabhakar, Krushna Abhishek, Rajiv thakur, Kiku Sharda and Anukalp Goswami are on this live tour and the excitement and entertainment will be double.
Though as per the previously announced date, Kapil's official tour website for New York has been changed, his 9th July show has been postponed. Kapil's live show has confirmed their postponement but he has not revealed the postponed date yet. The event management has to postpone the show.
For this sudden postpone news, it is being suspected and rumoured that Kapil Sharma's previous Breach of contract case, which got him in trouble with the filed case in 2015, is it same case as for NewYork postpone issue?
Neither has Kapil Sharma, manager or his crew Sumona Chakravati, Chandan Prabhakar, Krushna Abhishek, Rajiv thakur, Kiku Sharda and Anukalp Goswami revealed no further information till now. But Kapil Sharma's live show for New York has not been canceled but just postponed.