Rihanna is trending on twitter with a controversial rumour that ASAP Rocky cheated on Rihanna with Amina Muaddi. Know all about it right here!
Rihanna is Barbadian singer, she made her career in the Hollywood industry with her songs such as Loud, Good Girl Gone Bad, Unapologetic, A Girl Like Me. She was even part of the animation movie Home with her disney songs. She even won Grammy Awards, Billboard Music Awards and MTV Video Music Awards a lot of times. Though her music career made statements but so does her controversial love life.
Rihanna dated Chris Brown in 2006, these baddie rappers got extreme love from the audience. Until, in 2009 after the Grammy awards, they had a brutal fight. The couple got separated in 2009. Though ASAP Rocky and Rihanna  consider each other as "friends" their relationship was not confirmed. But later it got confirmed when Rihanna was spotted with a baby bump.
Rihanna with her baby bump spotted wearing Amina Muaddi brand.
Is it true, Rihanna and ASAP Rocky split?
Louis Pisano's tweet got viral all over the internet. Here's what he revealed, Rihanna & ASAP split. During the Paris Fashion Week, it occurred that Rihanna and ASAP split because Rihanna caught him cheating with Amina Muaddi. Though people were suspicious about sudden news being popped up and Rocky sudden relationship with Amina Muaddi consider suspicious, he declared ASAP & Amina is not new though as she was seeing him years ago and collaborated with him on a collection of shoes. After this tweet fans went crazy with their viral tweets, check them out!!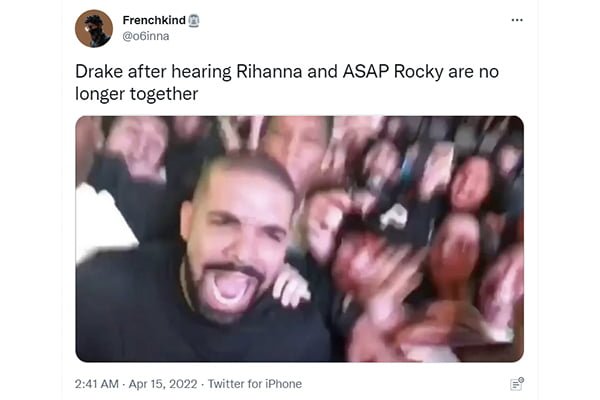 Rihanna and ASAP split rumour led fans to make memes.
Fans made hilarious memes after knowing about Rihanna recent rumour.
The number of memes this incident made is huge and fans have reacted to it. This event went viral and is currently trending all over the media. We are aware of Amina Muaddi who is suspected to be the ASAP girl, she even posted a picture of Rihanna where she is wearing pink pants, brown jacket and a soft pink toy which is a brand of Amina Muaddi. It was rumoured that Rihanna unfollowed Amina Muaddi. But Amina Muaddi is still following her.
Recently, this couple Rihanna and Rocky are on the internet and their separation seems to be true. But neither Rihanna or Rocky made any announcement for their separation which still makes this rumour baseless. But unfollowing Amina Muaddi after using her brand is sort of shocking and suspecting. Until, the couple announce their separation from their official Instagram or an interview then the rumour will become a fact. To know about the quick update, come back here!