Angus Cloud who played the Iconic Character of drug dealer Fez in popular teen drama 'Euphoria' found dead yesterday. Deets Inside
The actor Angus Cloud, best known for his part in the HBO teen drama Euphoria, passed away on Monday at the age of 25, his family announced. Cloud passed away on Monday at his family's Oakland, California, home, according to his spokeswoman, Cait Bailey. The reason for death is yet to be known.
"We had to say goodbye to an incredible human today," Cloud's family said in a statement. "We do so with the heaviest hearts possible." According to the statement, Cloud's father just passed away and the actor "truly struggled with the loss."
The actor's mother called 911 at around 11.30 am, according to the most recent sources on TMZ, believing that the star had a "possible overdose." Even worse, she said that her son had no heartbeat. At last, the authorities declared Cloud dead there and then.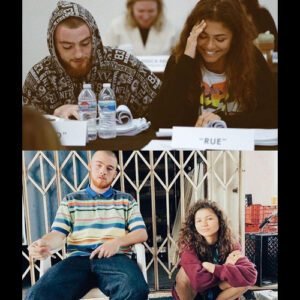 According to the report, the police have opened a formal inquiry into the death case and are awaiting the determination of the cause of death. Angus was special to all of us in so many ways, including as an artist, a friend, a brother, and a son. The only consolation we can provide is that Angus is now back with his father, who acted as his best buddy.
As he was upfront about it, we hope that Angus' passing would serve as a reminder to others that they are not fighting this battle alone and should not suffer through it in secret. Cloud, an Oakland native, became well-known for his role as heroin dealer Fezco "Fez" O'Neill on Euphoria. He rapidly won the favour of the audience. Some people believed Cloud was Fez since he seemed so naturally like the character, but the actor refuted this idea.
When others exclaim, "It must be so simple! You can come in and be who you are at any time. I suggest, "Why don't you go and do that." According to Cloud, it's not that simple," claimed Variety. I significantly influenced the character. It's your choice what you believe. I'm not involved in it in any way.
Cloud has no acting experience prior to being cast in Euphoria. Casting scout Eléonore Hendricks noticed him as she walked past him in New York. Cloud at first objected, believing it to be a scam. Sam Levinson, the show's creator, eventually added him as a co-star for the first two seasons of the show with Zendaya following a meeting with casting director Jennifer Venditti.
There was no one quite like Angus, Levinson said to the Hollywood Reporter. He was just too special, brilliant, and young to leave us at such a young age. Like many of us, Angus Cloud too battled addiction and depression in his rough phase of life. I wish he was aware of the number of hearts he won over the time. I admired him. I will always.
The actor who portrays a young Fez on Euphoria, Mason Shea Joyce, said of his character: "He was polite and supportive, never too busy for a quick conversation or pep talk. It was a great fun to perform as young Fezco in the Show.
In a statement, HBO said, "We are deeply shattered after learning about Angus Cloud's loss. He was a cherished member of the HBO and Euphoria family and has extraordinary talent. We offer his friends and family our sincere condolences during this trying time.
In his debut movie, The Line, which had its Tribeca Festival premiere earlier this year and starred John Malkovich and Alex Wolff as college students, Cloud played a supporting role. A source revealed to the Hollywood Reporter that Cloud had just wrapped up filming for his part in the yet-to-be-named monster thriller for Universal, which will be released in April of next year and was directed by the people behind Scream 6.