One of the most renowned fests of India, Grub Fest returns after three years and the public hopes that it is bigger and brighter than ever
India is a centre for many festivals and events, particularly ones geared at young people. The Grub Fest unquestionably comes out on top when it comes to culinary events. It's the ideal time to indulge in mouthwatering international and Indian food, limitless entertainment, foot-tapping music, and a generally good audience. The focus of this festival is to honor international cuisines. You may satisfy all of your taste bud cravings here. It is India's largest culinary festival, showcasing dishes from the top restaurants that wow us with their unique cuisine. In addition to delicious meals, excellent music is performed and played to lift your emotions. This event is held around the nation in various cities. At the Jawaharlal Nehru Stadium in the large metropolis of Delhi, this gastronomic spectacle began. If anyone was to ever go for this spectacle, people can find the three-day celebration to be very fantastic. The festival was also held in Pink City, Jaipur, in 2018. There are also proposals to hold this festival in more cities, like Mumbai, Kolkata, Jaipur, and Bengaluru. A ticket to this festival must be purchased through Book My Show, and foodies must prepare to have their tongues tickled. 
In the last edition, popular artists like Divine attended the fest and made sure the public had a great time
The mega festival returns to the capital region of the country after a halt of three years. This time it promises to be more enthralling than we have seen in the past. Over the past three years, we have seen various cloud kitchens get opened in the city and most of them would be on display at the grub fest. One of the most exciting reasons to attend the festival would be the star-studded artist line-up that it possesses. The festival is held at the Jawaharlal Nehru Stadium which is in the heart of Delhi and is easily accessible to everyone. This year it is going to be held in the first week of November from 4th November, 2022 to 6th November, 2022. The timings on each day of the fest are the same as it begins at 11 A.M till 10 P.M on these three days. Artists perform all day long around the centre stage but the main artists for which hype is unimaginable are mostly held in the latter part of the day.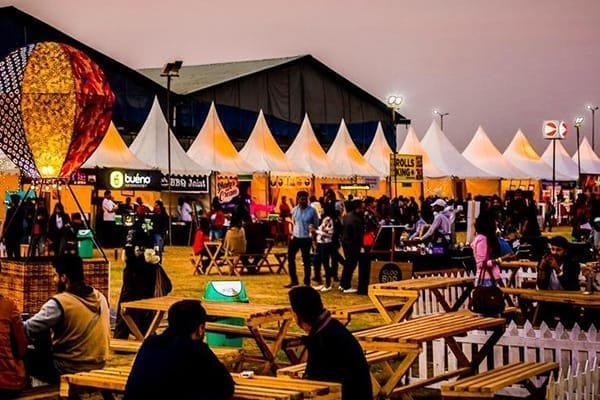 The public had been waiting for the past three years for this amazing spectacle to return for the first time since the pandemic
Apart from the finger-licking good food, there are different types of games that people can also take part in. People may even sign up for "Grub Star" which was available in the previous version, which gave them access to fine cuisine at the Grube Lounge by Imperfecto. If you enjoy playing video games, there is also a fantastic carnival zone with interactive games and a Sony PlayStation gaming station. There was also a picture booth there that you just must visit, and there were photo props all over the location that you can use for Instagram. There were a lot of fantastic restaurants in the previous edition that served the greatest cuisines. All of the restaurants, from well-known ones like Pappa Roti, Uncle Jack's, Enoki, and Sushi Junction to more recent ones like Namaste Asia, Bomberry, and Fat Guy's Kitchen, participated in this chaotic festival. People have a wide variety of food alternatives, including Lebanese, Chinese, Asian, Mughlai, and more. They also hosted a workshop with the extremely skilled Chef Kelvin Cheung, who demonstrated how to make a Kel Cake, as well as other well-known chefs who shared their own favorites.
It has the variety of healthy food as well and most of the people are turning health conscious and have catered to their need
The confirmed food stalls for this year's mega fest are renowned shops like Karims, Enoki, La Claire, Pizza Di Roma along with new ones like Wicked Wild Wings, Mr. Corn, Pasta La Vista amongst many other amazing food chains. As for the confirmed artist line-ups, there is plenty of talent on song as a few household names return to the stage to make the audience blazing to the tunes. Newcomers like Dikshant, Sameer and Dino James have been confirmed for the fest along with one of the greatest punjabi singers of all time, Imran Khan. Imran Khan has many popular hits to his name and some of them have more than millions of hits on all streaming platforms. If the food stalls didn't attract you enough, the artist line-up for sure will. With a number of artists still yet to be confirmed, the fest is already looking to be packed with energy and enthusiasm all around. 
The announcement of Imran Khan coming to grub fest was heard quickly by the public and have already started booking tickets for 5th November
The Grub Fest's return to the post covid era is a sign of things to come in the national capital region. But if you are going, don't forget to take enough measures in order to stay safe and healthy along with enjoying the enthralling festivities all along. The public can book the tickets for the fest on BookMyShow at very affordable prices. This might be the chance for the people to make their weekends full of life, with great food and music along with some amazing fun and games. So instead of spending it on your lazy couch, you can just book the tickets and head to the Jawaharlal Nehru Stadium on 4th, 5th and 6th of November, 2022.