An art exhibition in London lets visitors squeeze between two nude models at the entry gate. Are you also wondering why? Let's find out.
Many of you visit an art exhibition once in a lifetime but have you ever had to enter into the exhibition by passing between two nude models? No, right and you must be wondering why are we asking this question. So, let me tell you the reason. Recently, at the upcoming exhibition at the Royal Academy of Arts Exhibition, which is located in London, the visitors brush past two nude models – a man and a woman, at an entry gate at the exhibition.  It's the only way to gain access to the forthcoming Marina Abramovic art exhibition is by squeezing themselves between the two naked models.
The head of the Royal Academy of Arts Exhibition said "This performance is called Imponderabilia. It was created by Marina Abramovic. It forces the confrontation between nakedness and desire, gender, sexuality". The management also makes a separate entrance for those who are not comfortable passing between the nude models. The exhibition will be start from 23 September 2023 to 1 January 2024. The exhibition has moments from the artist's 50-year career through performance, sculpture, and video installations. The next generation of performance artists, who have been schooled in the Marina Abramovic method, will perform works like The Artist is Present in amazingly re-staged versions using archival footage.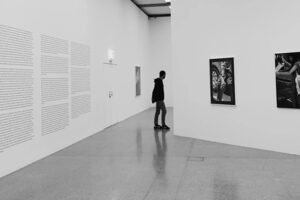 However, the critics have mixed reviews about the exhibition – some said it 'Vital' while some said it 'remorseless'. Marina Abramovic considered it as a power to be transformative. According to the Royal Academy of Arts exhibition, you can personally experience this by attending performances of Imponderabilia, Luminosity, Nude with Skeleton, and The House with the Ocean View. If you also wondering about what is Luminosity? Here, we cleared you up. Luminosity is in which a naked woman is pinned to the wall in a cross while seated on a bicycle saddle.