The Rise Of The 'Lumber-Sexual' Bearded Look Has Seen The Re-Introduction Of Beard Oils And Products To Help Tame The Beard And Keep It Well-Groomed. Dive In To Add Trimmers That Should Be A Part Of Your Grooming Armoury.
With our social lives getting back on track, it is time to fix your grooming kit, and start fixing the hipster like growth – if you haven't already. While some prefer the bushy look, there are (many) others who are turned off by backs, sacks and cracks covered in a thick layer of wiry hair. To maintain a squeaky clean look, you will need the finest range of manscaping tools. A trimmer or shaver tend to offer more versatility, comfort, bigger batteries and less charging time. Celebrities have always played a big part in setting facial hair trends.
Beyond the basics of grooming and hairstyling, there is very little to choose from in terms of male- specific skincare. Manscaping qualifies as a style trend and a means to potentially attract love interests. There are other reasons as well of why it's a good idea. This guide will cover all areas of the body aside from facial and scalp hair (don't worry, we've also got you covered on shaping your beard and hair care tips). Sterilize them with alcohol first, especially if you use the tweezers for other functions, such as removing splinters or facial hair.
In the late 80s and 90s, actors proudly flaunted thick mustaches. A few years later, the norm was to be clean shaven. However, in the last decade or so, we have witnessed the resurgence of the full beard in all its glory. Classic beard and mustache styles have been revived and new grooming trends have flourished all over. If you don't fancy a full beard but also don't want an entirely clean look, consider going for the edgy, and easily attainable beard style. You can shave your beard a day prior and continue trimming it for maintenance. So, if you also wish to experiment with a new beard style or grow out a mustache, we've rounded up the best trimmers you need.
Andis, Slimline Pro Li Cordless Beard Trimmer, Silver (32400)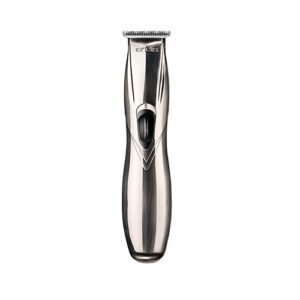 The Slimline Pro is tough to beat when it comes to cleaning up in between appointments, but if your beard needs more than some light styling, it's ready for that too. Moreover, it'll give you a clean, barber-caliber line- up along the cheeks, burns, mustache, and neck. It's your go- to device for neckline cleanups too! It's also great if you want to maintain a short stubble or otherwise are prone to ingrown hairs.
Panasonic, 6 Blade ARC6 Electric Shaver LS8A – Wet/ Dry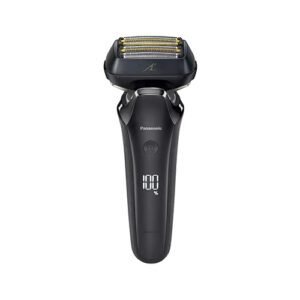 The ES-LS8A Arc6 mens shaver delivers an ultra-premium shave, with six blades forged from the highest-grade Japanese stainless steel. A powerful linear motor delivers 84,000 cross-cutting actions per minute to trim even the thickest beards, with a flexible shaver head (22 directions). Shave any length beard with a minimal number of strokes- -beard sensor responsively boosts and reduces power for an unbelievably close shave without irritation. Wet/Dry Shaver with Long-Life Battery: Shave wet or dry, in or out of the shower, and simply rinse under running water; a full charge provides 50 minutes of smooth, powerful shaving, with a 3-minute quick-charge for 3 minutes of shaving.
Bevel, Pro + Pro T-Blade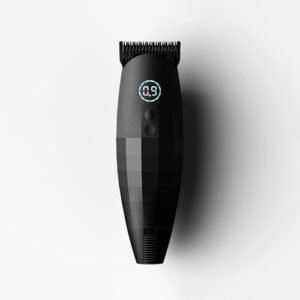 Bevel recently launched one of the sexiest trimmers ever, a muscled upgrade of its best- selling device. This new one has all the guard heads for a precise trim, a professional line up, and even a buzz cut. Rather than guards, the device uses a motorized head to adjust from a zero-gap close shave on up, at ultra-precise 0.1mm intervals. It's got the same heft and gorgeous design of the previous device, along with 4 hours of cordless battery life.
Wahl, 5 Star Mentor Detachable Blade Clipper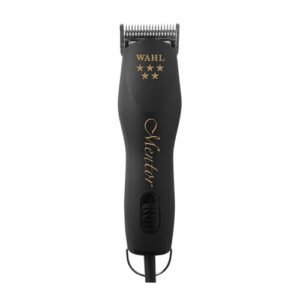 The 5 Star Mentor Detachable Blade Clipper is a must-have tool for the busy barber! This clipper comes with a 4 detachable blade system (000, 0A, 1, 1A) that allows for seamless fading. This heavy-duty 2-speed motor clipper (3000 RPM-3700 RPM) is equipped with a brushless motor for maximum power and extended motor life. The constant speed of the brushless motor allows you to cut through any thickness of hair. The 5 Star Mentor is ideal for bulk hair removal, clipper over comb work, and precision fading. You will never look at another detachable blade clipper the same after picking up this precision tool!