If you want an iPhone but want it to be unique and the most priceless one ever made, you're in the right place! Combining an iPhone and diamonds brings into existence an obscenely expensive iPhone!
There are iPhones and then there are luxury iPhones – which one sounds more appealing to you? We're sure it's the latter, and if it is, then we have something truly exciting for you today – the iPhone 4S Elite Gold. An utterly indulgent masterpiece, this phone is meant for the true Apple fan. Get ready to redefine luxury and feel like the king with this diamond-encrusted iPhone in your hand.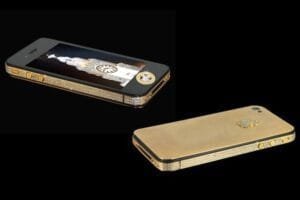 iPhone 4S Elite Gold
The cream of the crop when it comes to smartphones, the iPhone 4S Elite Gold costs a whopping Rs. 74,89,84,010. It is Stuart Hughes' third piece to feature on the list of most expensive phones and is perhaps just one step below the top spot! A truly spectacular phone, it is handmade and customized right down to the box it comes in! Whether you consider it to be bank-breaking or not, you definitely will consider it to be a must-own iPhone and we agree!
This utterly indulgent masterpiece comes in a box that takes it truly over the top. The box is made from solid platinum as well as polished pieces of original Dinosaur bone from the Tyrannosaurus Rex, no less! The box is also set with a lot of rare gemstones such as Opals, Pietersite, Charoite, Rutile Quartz, Star Sunstone etc. And let us tell you right now, only 2 models of the iPhone 4S Elite Gold were ever made which is what makes it truly spectacular.
The bezel is set with approx. 500 individual flawless diamonds totaling over 100ct.
Talking about the iPhone itself, the phone is pretty much the most unique mobile phone ever created. The bezel is handmade from rose and set with approx. 500 individual flawless diamonds totaling over 100ct. This leads us to the rear section, which is made using 24ct gold and the infamous Apple logo is also made from 24ct gold and set with 53 diamonds. The main navigation is also formed from gold and is set with a single cut 8.6ct diamond. Taking the indulgence completely over the top, the iPhone also comes with a flawless pink diamond as a 'spare' home button to replace the existing one should you wish to. The phone has 64gb of storage as well, so you don't need to be worried about the functionality.