Grooming: Relax and rejuvenate your skin with this easy homemade DIY Face Pack. Read it and get an instant glow at home.
Even though having nice, healthy skin is a blessing, having glowing skin requires effort. You may prevent it by following a healthy diet, drinking enough water throughout the day, engaging in regular exercise, and using skincare products that are suitable for your skin type. But what if you want flawless skin right soon and want to try a simpler technique?
You can attempt our top homemade treatments for a quick glow on your face in the convenience of your own home and receive great results. Discover some of the top homemade treatments for an immediate face glow, listed below.
Aloe Vera and Cucumber Face Pack
Cucumber helps your skin to be hydrated and helps to combat premature signs of aging. Whereas, Aloe Vera soothes your skin from sunburns, moisturizes your skin, and gives your skin a fresh look. You don't have to do much for this face pack. You have to just a cucumber and aloe vera gel. Blend it properly apply it over your skin, neck, and hands, and keep it till it's dry. Wash it off with water and apply moisturizer over it. It soothes your skin, reduces puffiness, and hydrates your skin.
Carrot and Yogurt Face Pack
Carrot and yogurt, both ingredients are great for all skin types. It is good for glowing skin which also hydrates your skin very well. They also have a significant impact on skin exfoliation and the removal of dead skin cells. Grate some carrots and mix them with yogurt to make a rejuvenate face pack. Apart from this, you can also add egg white to the pack, which tightens your skin and closes pores.
Tomato and Honey Face Pack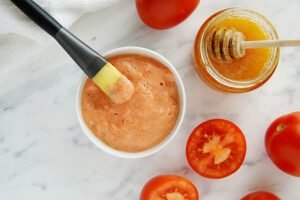 Tomato is well known as a great gentle exfoliator that can improve the texture of your skin. They have flavonoids, pectin, and antioxidants that collectively act to bring out the shine behind the layer of dead skin that has built up on your face. They are abundant in lycopene and vitamin C. It heals sunburn, removes sun tan, and makes your skin healthy and glowing.
You just need to mix the tomato pulp with honey to create a brightening face pack. Apply on the affected areas and wash it off with water. Tomato improves texture while honey provides moisture to your skin.
Banana and Spinach Face Pack
Bananas are rich in potassium, and Vitamin C & E, which help to promote glowing skin, while spinach is rich in collagen which is a protein that helps your body to create new skin cells, and vitamin C helps you to avoid a dull appearance and promote tighter and bouncier skin. It is also rich in antioxidants.
For making a face pack, Blend Spinach leaves and a ripe banana together. Apply all over your skin and leave it to dry.
Honey and Avocado Face Pack
Honey calms skin, moisturizes your skin, reduces pigmentation, and also helps to exfoliate dead cells. While, Avocado also reduces skin inflammation, prevents skin damage, and provides nutrients for soothing and healing.
For the face pack, Mash Avocado and mix it well with honey. Apply it properly on your face and neck. Leave it on for some time before rinsing it off with water and follow up with a moisturizer.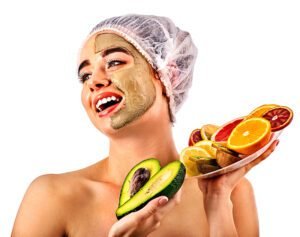 Making your own face masks is a great way to polish your skin and restore its vitality and flawless complexion. With these natural DIY face packs for fast radiance and fairness, you may unwind, refresh, and allow the natural ingredients to work their magic.