Ready to start planning your New Year's Eve party? These party games will come in handy. Take a look.
We live by Vern McLellan's saying, "What the New Year brings to you will depend a great deal on what you bring to the New Year." So, if you are aiming to have a spectacular year, this is the quote you should be living by. While this year wasn't particularly harrowing as the past two, it was still stressful and everybody does deserve a break. And the holiday season brings with it good tidings and cheer and we've never really needed a reason to make the most of it. That's why we're already planning our New Year's Eve get-together for 2023 well in advance. Whether you wish to ring in the New Year at home, at someone's party, or throw a party yourself, there is no reason why you can't make it interesting. A great way to do that is by playing games. A New Year's Eve celebration at home, celebrated from the comfort of your sofa and pyjamas, is just as lively as one spent partying out on the town. And to ensure you have as much fun as possible, we went ahead and made a list of all the games you could be playing to ring in the New Year with fun and frolic. After you figure out the "eat and drink" situation for the party, the next thing you need to focus on is the party games. Take a look!
Host A Poker Tournament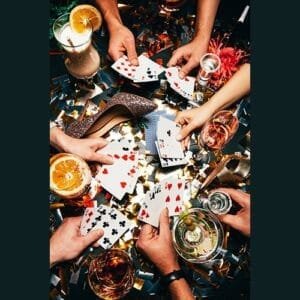 Host a poker tournament
New Year's Eve is the perfect time – and occasion – to host a good old-fashioned poker tournament. It's the perfect way to have a laid-back evening, yet inject a little competitive spirit into the environment to spice things up. If you don't want to do it the traditional way and are looking for something different, you could change the rules a little. Up the ante, use something else instead of poker chips – like dares, or if it is an all-adult party, you could just change it to strip poker to spice it up. Either way, you're guaranteed a lot of fun and frolic.
New Year's Themed White Elephant Game
Play a New Year's themed White Elephant game
The White Elephant game is a classic for a reason. But since this is a New Year's party, the game should be geared toward the occasion. That's why we're taking the game and tweaking the rules a bit to suit the occasion. Basically, White Elephant is a gift exchange – and people vie to walk away with the best present. Each player brings one wrapped gift to contribute to the common pool and they draw numbers to determine the order they'll go in. Don't forget to set a price limit for the gifts. Sit in a circle or a line to be able to see the gift pile better and sit in the order you're supposed to take your turns in. The first to play chooses a gift from the pool in full view of the other players. Now all you need to do, is swap, steal, and try to get the best gift for yourself! You can also put a limit on swaps if you wish – whether a gift can be stolen only once or twice during the game or even three times. Now for the New Year's spin: each gift needs to be aimed at a typical New Year's resolution. Even if it's just a gift card to a spa to practice more self-care, that's the way it needs to go!
Get Countdown Bags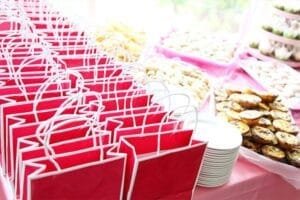 Get countdown bags
If you've ever had a birthday party, or even just thrown a party for someone, you're probably aware of the party favour tradition. That's all there is to this game. The difference is that in this game, there will be interaction and fun since you're not just handing away the bags at the end of the party. What you're going to do here, is get some paper bags and fill them with fun trinkets. Now, you're going to hand them to your guests to open at every hour of the night. This game is fun for people of all ages, so even if you have kids present at the party, nobody will be left out.
Two Resolutions And A Lie
Two resolutions and a lie
If you wish to inject some more fun into the party, this game will help. The gist is simple: each guest will present three resolutions – they can write them down or speak them aloud, that's your call. Out of the three resolutions, two will be true and one will be a lie. Now each guest will take turns trying to guess which one is a lie and which ones are true. After everyone has made their guess, the player will reveal who guessed correctly. Each guest will get their turn to present their resolutions and each one will get a chance to make a guess. If you wish, you can keep track of who guessed what and the one with the most wins could get a prize.