Coming from a Bollywood background, Saiee Manjrekar has got it all, she is chic, bright & alluring. Know all about her journey, inspiration & upcoming plans here!
After being welcomed into the industry by Salman Khan, star kid Saiee Manjrekar is all ready to set her foot in Telugu films with two electrifying movies lined up. The daughter of Mahesh Manjrekar has her eyes set on the price and has indeed started to work for it from a young age. While discussing Bollywood with her she spilled how the newlywed actress, Alia Bhatt, is her inspiration. We had a witty conversation with her and trust us you're going to love it. Keep reading to know all about the next big star, Saiee Manjrekar!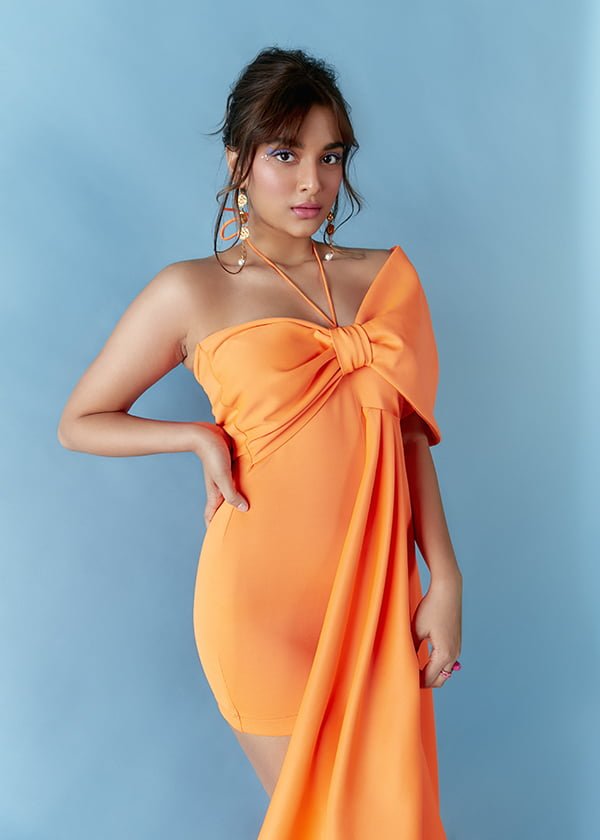 Dress: Dimple Shroff
Jewelry: Misho
Shoes: Forever 21
Welcome to FHM, how would you describe yourself in three words?
In three words, I'd describe myself as funny, caring & empathetic!
Tell us about the time you auditioned for Dabangg 3, were you nervous, excited, or had a fangirl moment with the Bhai of Bollywood? 
When Dabangg 3 happened it was like a range of emotions that buried throughout the whole journey. There was nervousness, excitement, I was intimated in the beginning and then it kind of died down. Not to forget, there was Salman sir, and I was fangirling the whole time. I think it has been such a great journey!
You debuted with Salman Khan, if not Dabangg 3 what movie you would have loved to be a part of with him? 
If not Dabangg 3 I would have loved to get launched opposite Salman sir in 'Hum Apke Hai Kaun.' I would have not even been born then, but yes; I certainly would love that.
Blue lingerie set: Flirtatious
Shoes: Paio
Jewellery: Bershka
If not an actor, what would your profession be?
If not an actor, I know for sure I would have been a teacher for maths & literature. 
Every industry, including the entertainment industry, is full of competition; what do you do to stand out amidst competition?
I feel like competition exists everywhere. I don't think anyone needs to do anything specific to stand out. Everyone is a very different individual. The more you own up to the person that you are, you will always stand out and that's for everyone.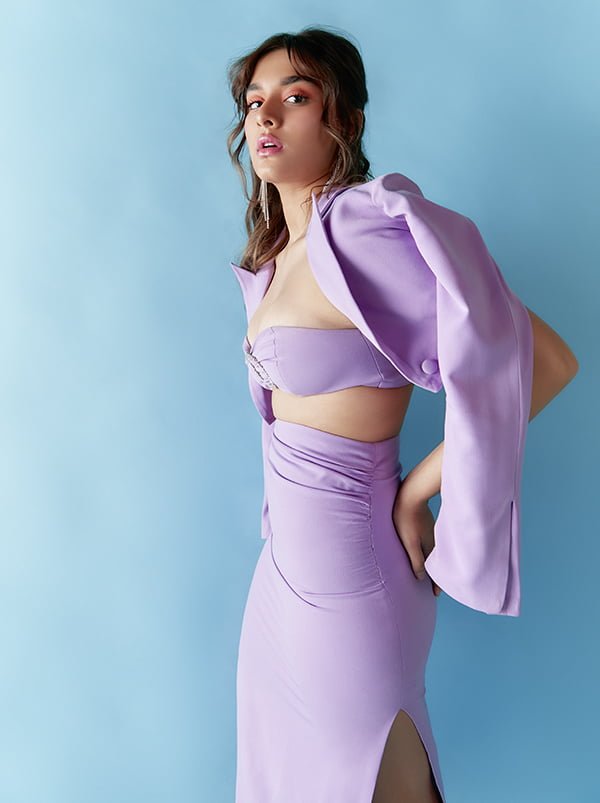 Purple look: Saranya
Jewelry: H&M
Tell us about an actress that has been your inspiration & why?
One actress that inspires me is Alia Bhatt. I feel like her growth is so inspiring to witness that and to see the work she does. Her talent & hard work really inspires me!
One producer you'll like to work with next: Aditya Chopra or Sajid Nadiadwala? 
Honestly, I'd love to work with both of them. They're both such great producers and production houses. It would be an honour to work with both of them.
If your life was a movie, what would the title be?
It might come out a little cliché, but 'Eat Pray Love.' Since it's also the motto of my life.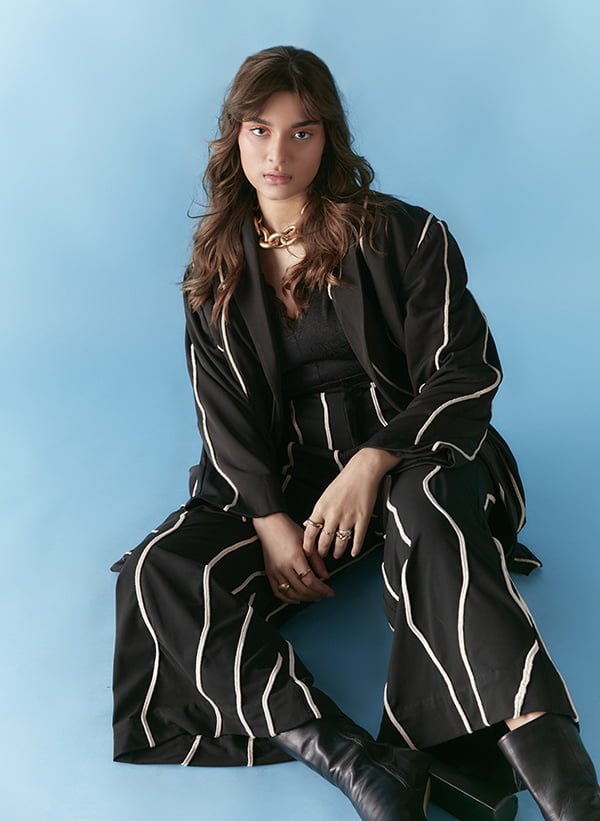 Pant suit: Balav
Bodysuit: Clovia
Shoes and accessories: Zara
How do you pamper yourself on a day off? 
On my day off, I make sure to take out time for myself and do things that I enjoy. I watch movies, sometimes I cook, go out with my friends for a drive. Of course, there are so many other things I love to do on a day-off, but these definitely top the list.
What's something your fans should know about you that might surprise them?
One thing that might come out as a surprise to many people is that I am a really funny person. I might take a while to open up and show that side but once I've open up to someone, I can be a riot. Not praising myself, but I can really make people laugh!
Dress: Antithesis
Bracelet: Love dk
Earrings: Misho
Spill some secrets about your upcoming plans?
Ghani & Major are releasing which I'm very excited about. Since the pandemic happened, I have been wanting to see myself back on the big screen in the theatre and now that's finally going to happen that too twice in almost less than two months. All my energy is kind of focused on that right now.
Lastly, one piece of advice for our lovely readers?
I know every time you open your phone, newspaper or TV everything looks bleak, sad and drab, but you just have to make sure individually you spread joy around. I believe that's how the world would be a better place.