Japanese desserts are characterised by the explosion of subtle flavours in your mouth with a dash of sugar rush! Read on and find out the best ones to treat yourself on your next trip!
Every country's food tradition says something about its culture. A country with a highly distinctive culinary scene, Japan is rich with food traditions. Japanese cuisine is one of the most popular in the world currently, and for all the right reasons. Although Japan is not typically known for its sweets, in actuality, Japan was making sweets long before the country was introduced to sugar. Japanese desserts are characterised by their subtle flavours that explode in your mouth bringing along a sugar rush. Traditionally called wagashi, these Japanese desserts used to be enjoyed with green tea to offset their bitterness instead of being eaten as sweet treats at the end of a meal. These desserts are prepared with the utmost care, paying special attention to maintaining the balance and natural flavours of the ingredients. These desserts are also very simple to make, so if you wish to try your hands at making them, you could just as easily do it.
These delicious and charming desserts are both a treat for the mouth, as well as for the eyes. Japanese desserts are also lighter than most American sweets and also serve as the perfect palate cleanser after heavy meals. If it is a delicious sugar rush you're after, here is a list of some of the best desserts Japan has to offer.
1. ANMITSU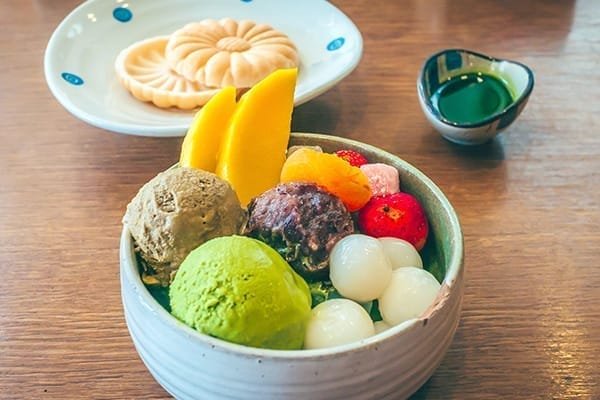 Anmitsu is the perfect dessert for hot summer days. 
Anmitsu is a refreshing and cool dessert, perfect for the hot summer days. Low in calories, the best part of it is the addition of fresh fruit. It is quite similar to a sundae; the difference being that it is made with traditional Japanese ingredients. The dessert resembles a parfait and is created from agar-agar jelly that is melted in water or fruit juice to create the gelatin. Then it is served in a bowl along with other additions like anko, peas, shiratama mochi dumplings and a wide variety of fresh fruits. The dessert is served with black sugar syrup called kuromitu that one pours on the jelly before eating it. Sometimes, ice-cream is also added to anmitsu to make kurimu anmitsu. The differences in taste and textures is what makes this dessert so enjoyable and also represent quintessential Japanese harmony as everything works together perfectly.
2. DAIFUKU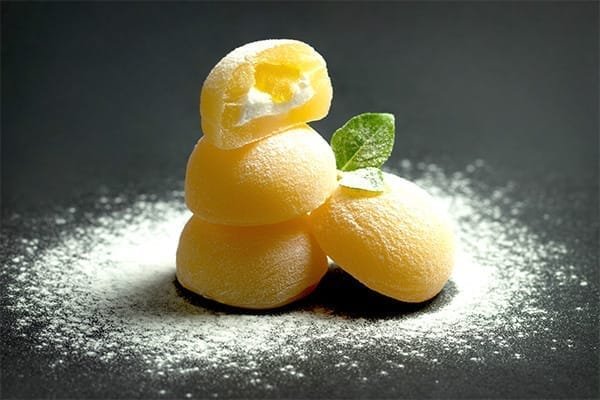 Daifuku is a very common dessert eaten in Japan. 
A wagashi dessert made of mochi balls and stuffed with anko, Daifuku is another must-have dessert from this list. It is also a very commonly eaten dessert in Japan. The balls are about the size of your palm and are completely covered in corn or potato starch that prevents them from sticking together. Daifuku comes in many varieties and the different fillings include strawberries, sweet cream, apricot jam, coffee-flavoured fillings etc. Daifuku ice-cream is a common sight during the hot summer months and amongst the wide variety of flavours, red bean paste is the most popular due to its subtle sweet taste. Daifuku translates to "great luck" and was once only reserved for special occasions like the New Year because the process of grinding glutinous rice into a sticky paste is extremely labour-intensive.
3. NERIKIRI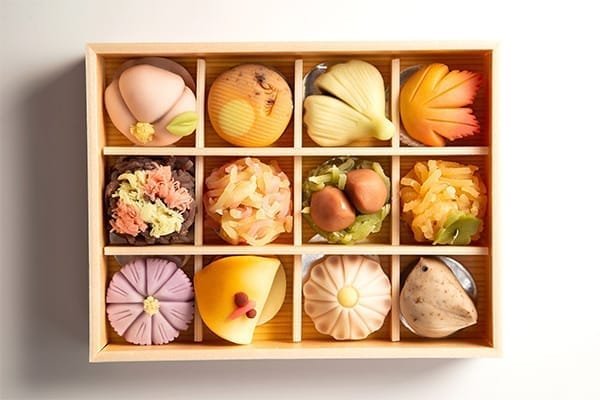 Nerikiri is as appealing in taste as it is visually. 
A Japanese wagashi that reflects the season it's being served in, nerikiri is a great treat not just visually, but taste-wise too. The most popular shape that it comes in is that of a cherry blossom and it is called sakura nerikiri. This shape can only be bought in spring. Nerikiri is not limited to just one shape – it also comes in shapes of scenery, flowers and birds. It is traditionally made with white bean paste and glutinous rice flour. A fun fact about the dessert is that the consistency of the 'dough' is quite similar to playdough making the process of molding it into shapes extremely enjoyable. It is often served at tea ceremonies but it also makes for a really great snack that can be consumed during any time of the day.
4. DANGO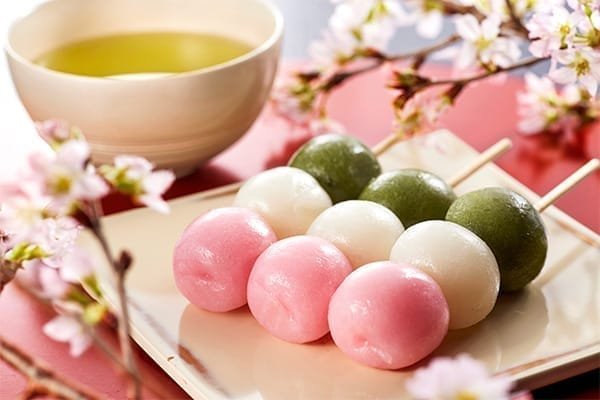 Dango are sweet Japanese dumplings quite similar to mochi. 
If the picture of this dessert is giving you deja-vu, that's because this dessert even has an emoji for it! Dango are Japanese dumplings that are quite similar to mochi. These are made from mochiko which is a rice flour similar to mochi. The flavours vary depending on the season and they're served on skewers of three or four on every skewer. This dessert is served year-round and each season sees different varieties of it in each season. One variety that is very popular is the mitarishi dango; it is covered in a sweet and sticky syrup. This dessert is a very common sight during festivals like hanami.
5. MONAKA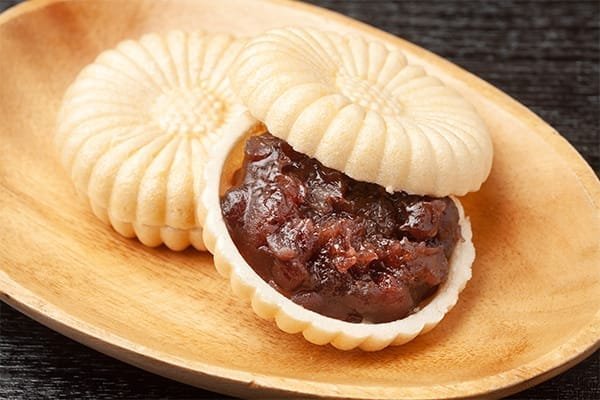 Monaka is a traditional Japanese wafer cookie. 
Monaka is a traditional Japanese wafer cookie that is eaten with sweetened red bean paste. These have a crispy outer shell filled with sweet ingredients like anko, chestnut paste, and mochi. Monaka is also a type of wagashi (dessert) that is often served with tea. These are often used to create ice-cream sandwiches – ice-cream and chunks of chocolate are sandwiched between two crispy monaka wafers. One can easily find many famous monaka specialty stores in and around Japan.
6. UIRO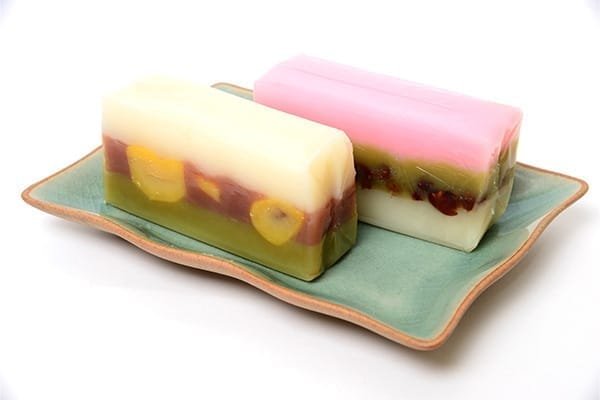 Uiro originally served as the name of a medicine during the muromachi period (1336-1573) before it became the name of this japanese dessert.
Uiro is a sweet Japanese cake that consists of sugar, rice flour and water. Traditionally, the cake is steamed to the point it develops a chewy texture. Dating back to the 16tch century, Uiro was used as a part of Japanese tea ceremonies – a tradition that is still practiced to this day. A number of variations are there on the cake so many ingredients can be used to flavour the cake like matcha, chestnuts, strawberries etc. Although the same ingredients are used to make this as mochi, the method of preparation is not the same.