Everyone aspires to have a face that is radiant and lovely, and ice can help you achieve that.
Summer is on our doorstep, and it is just the month of April, and our skin has started getting dull and tan. After applying ice, your skin can get a bit of calmness. There are so many men and women who work all day and come home tired in the evening. And after such a stressful day, you can instantly reduce your stress by rubbing ice cubes over your face. Your face becomes more radiant as the blood flow increases. Cryotherapy, often known as "cold therapy", is the practice of applying ice to a bodily part for therapeutic purposes.
And here comes the main part. 'BENEFITS OF RUBBING ICE CUBES'. As, purified water is always beneficial for our health, particularly for our skin, and removes all toxins from our bodies. Likewise, ice also has benefits that clean our skin thoroughly.
Brings glow to the face
We all want our skin to be beautiful and luminous. We spent a lot of money on several pricey solutions for that, but we scarcely got the best outcomes. Applying ice to your face stimulates blood circulation, which brightens your skin. Additionally, it increases the skin's oxygenation and provides vital nutrients and vitamins. Due to the constriction of capillaries, rubbing an ice cube on your face also aids in increasing the absorption of your skincare products.
Reduce puffiness
The most frequent causes of puffy eyes are lack of sleep and eye strain, though there are other potential causes as well. These swollen sacks swiftly vanish because of the ability of ice to diminish swelling. Your stunning eyes will return to shape if you apply cold to the afflicted areas. If you add a small amount of black coffee to the ice cube, the process will go much more quickly.
Increase blood circulation
Your blood flow must be good in your face. Good blood flow makes skin look more healthy and bright. One of the key advantages of using ice on the face is an improvement in blood circulation. Create a routine of frequently rubbing ice cubes on your face. This will aid in boosting facial blood flow, and improved facial blood flow is sure to leave your skin looking young and healthy.
Ice works as a makeup base
Many women have the habit of applying so many things like primer or makeup setters to set their makeup for a longer period. But, they don't know that just applying an ice cube before using makeup can give you long–lasting dewy makeup for the whole day. Especially in the summer, ice protects your makeup from heat and sweat, which can destroy your makeup.  You don't have to do anything. When you rub ice on your face and apply makeup, it easily absorbs into your skin and gives an instant glow to your face. It doesn't even let your makeup melt.
Calms your skin inflammation and exfoliates your skin
The affected region can be soothed by massaging an ice cube on it if your skin is becoming itchy or irritated as a result of persistent cystic acne, allergies, rashes, or even excessive sun exposure. It works wonders to quickly reduce inflammation and discomfort by constricting the blood vessels. The finest natural exfoliant you can use to get results quickly is ice. Ice cubes increase your luminosity and natural glow.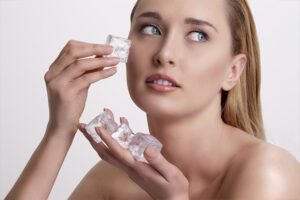 How to rub ice cubes on the face to prevent ice burn?
It is advisable that you wash your face before rubbing ice because if you massage an unclean face then it can cause breakouts and pimples. So, before rubbing ice on your face double-cleanse your face with mild face wash.
Once you wash your face, you can rub ice cubes in two different ways. One by wrapping ice cubes in a cotton clean cloth or by using a naked ice cube. If you are a beginner, then you should start by wrapping ice cubes in a clean cloth.
Move Ice Cubes in a circular motion for not more than 10 seconds, repeat it again, and massage your face for at least 1 minute. If you have acne-prone skin or pimples while rubbing ice on your face, keep ice over your pimple or acne, so that it soothes and minimises the size of the acne.
After massaging the ice cube on your face, leave your skin as it is and let your skin dry naturally. When your skin is about to dry, apply your favourite moisturizer all over your face and neck. It will work more efficiently if you rub the ice cube on your face before going to bed at night so your skin gets time to heal effectively.