Constantly finding yourself covering your mouth due to foul breath? It's time to pay attention to your oral hygiene and get rid of it once and for all!
Imagine yourself sharing an intimate moment with your lady, but she runs away the moment you lean down to kiss her! Alright, we concede she might not run away from you, but it is surely going to put a serious damper on your evening, right? But don't fret. bad breath is curable as long as you put in a little extra effort. Which we are sure you will since your love life definitely hangs in the balance here! Bad breath is also termed halitosis and can cause embarrassment and anxiety. Halitosis can be caused by several factors ranging from heartburn to dry mouth or a disease in some completely different part of the body. But thankfully for all of us, it is easy to cure. Just make sure to read this article carefully and you're good to go!
CAUSES
Chronic bad breath is usually a result of poor dental hygiene. But it can also have a myriad of other causes, read on to find out what could be causing your bad breath.
1. Poor Hygiene: The most common cause of bad breath is not paying enough attention to your oral health. The residual food particles release a foul smell when the bacteria growing there breaks them down.
2. Dry Mouth: Another cause could be dry mouth. If your body is not producing enough saliva, your breath will start to smell bad.
3. Smoking and Alcohol Consumption: Smoking causes dry mouth which leads to a foul odour. Alcohol consumption also leads to a decrease in saliva production, again, leading to dry mouth.
4. Certain Food Groups: Certain foods like coffee, high sugar diets, and high-protein or low-carb diets, can lead to bad breath as well. Another culprit belonging to this food group is flavourful foods like onions, garlic, certain vegetables, and spices which affect your breath as the particles enter the bloodstream and get carried to the lungs.
Bad breath is easy to prevent. Just take care of your oral health zealously.
These were just a few things that cause bad breath. There can be other serious underlying issues for which you would need to consult your doctor or dentist as bad breath is often a sign that there might be some deeper issue at play here. Now let's look at some prevention measures.
PREVENTION:
Bad breath is not incurable. But if you follow these steps, you can prevent it from occurring in the first place.
1. Brush and floss two times a day and rinse your mouthwith mouthwash to add extra protection against bacteria.
2. Another important area to pay attention to is your tongue. Use a tongue scraper daily to scrape off the coating that forms on your tongue.
3. Avoid foods that can sour your breath, this includes garlics and onions. Not even brushing afterward can get rid of their smell.
4. Stop smoking and overconsumption of alcohol. These are the biggest offenders when it comes to bad breath.
5. Sugar is your biggest enemy. Chew sugarless gum after meals to freshen your breath instead of your after-dinner mint. This also prevents dry mouth by increasing saliva production.
If doing all these doesn't help, make an appointment to see your doctor as your halitosis might be related to some other medical condition.
We also have some product recommendations that can be of help. 
1. Sonicare 9900 Prestige, Power Toothbrush with SenseIQ HX9990/12
The Philips Sonicare 9900 Prestige is specially designed to improve your technique in the long term.
Electric toothbrushes are far more effective than conventional toothbrushes. The Philips Sonicare 9900 Prestige is a pretty impressive electric toothbrush, specially designed to improve your technique in the long term. The SenseIQ technology will sense pressure, motion, coverage, and more up to 100 times per second and adapt to the intensity. So, you experience better brushing and effortless care over time. The brush helps in removing up to 20x more plaque than normal toothbrushes, resulting in fresher breath. The longer bristles of the brush provide deep cleaning for gums which results in gums that are 15x healthier. The brush is also powered by artificial intelligence that works in perfect harmony with the toothbrush. And the app helps you stay up to date with the progress you're making and offers solutions to help you obtain better oral health. And the sleek, chic design is an added bonus!
2. Oral-B, iO Series 9 Rechargeable Electric Toothbrush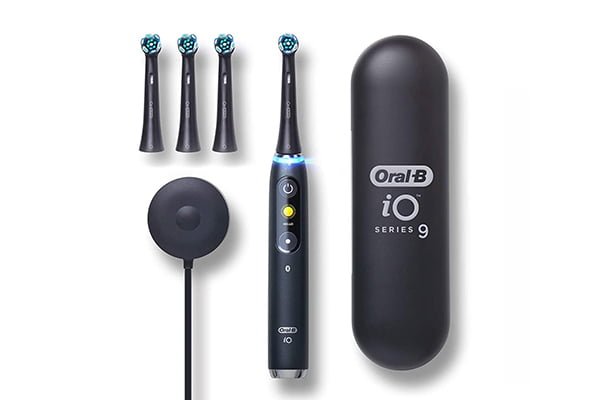 The brush combines powerful and gentle micro-vibrations with a dentist-inspired round brush head design.
A brush that combines powerful, yet gentle micro-vibrations with Oral-B's unique dentist-inspired round brush head design. Achieve a professional clean feeling every single day with a brush that comes with 3D Teeth Tracking and AI Recognition that uses an interactive colour display to guide you towards the best way to clean all areas of the mouth. The brush comes with 7 smart modes to deliver a smoother, personalized brushing experience; choose among Daily Clean, Whitening, Gum Care, Sensitive, Intense, Super Sensitive, and Tongue Clean. The brush also connects to the Oral-B app through Bluetooth so you can track your brushing habits.
3. Theodent 300 Toothpaste
A clinical strength toothpaste that is fluoride-free and non-toxic. 
The Theodent 300 Toothpaste is a clinical strength toothpaste and is a fluoride-free option for those interested to purchase it. It includes Theodent's patented ingredient Rennou that remineralizes enamel and hardens teeth, and this has been clinically proven as well. The toothpaste is non-toxic and not harmful even if you swallow it. The tube comes in a heritage style packaging with a gold cap and is gorgeous enough that you'll want to show it off as much as possible!
4. Officine Universelle Buly Eau de la Belle Haleine Mouthwash
A mouthwash that tastes and smells like a luxe min tea, what more can one want!
A mouthwash that tastes and smells like a luxe mint tea, this mouthwash is a sweeter option than your usual mouthwash. The main ingredient here is thermal water from the CastéraVerduzan region. In case you're not aware of the specialty here, it comes from the first spa town in France accredited by the health department for treating periodontal pathologies and ailments of the buccal and lingual mucus membranes. The bottle has a unique design and each bottle of this mouthwash comes with handwritten calligraphy labels that you can customise. This mouthwash re-mineralizes teeth, balances buccal flora, and protects your gums.