A Bag Can Add Value To Your Closet And Furniture Collection! But We Hope You Aren't Excited To Have It As Your Wardrobe's Must-Have. Read Ahead To Know Why.
Handbags speak louder than words" and that expresses your personality in a mind blowing manner. Crazy and bizarre fashion surely surprises. Anything and everything is turning into a trend if it catches the eye. While we do welcome a change in fashion when it's attractive and classy, we sometimes don't understand the logic behind some.
Being an Italian luxury fashion brand, Moschino is known for its outrageous designs. The statement accessories collection of this brand has elicited a range of opinions all over the social media. The brand has unveiled bags that look like teapots, clocks, mirrors, etc. Thus, it seems that this Italian Brand is converting itself into an Italian Furniture house!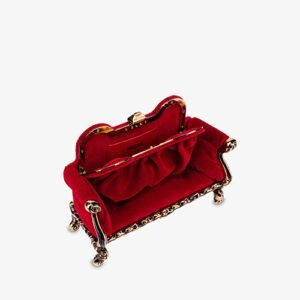 We all love a little quirkiness in fashion but now Moschino has turned its fashion pieces into furniture! Looks like Moschino has jumped onto the bandwagon of introducing bizarre fashion trends and unveiling the furniture collection. When looking at this 3D Baroque Sofa-shaped velvet clutch bag featuring Baroque inspired tarnished brass details, we were not highly impressd! The bag's internal compartment corresponds to the back of the sofa with an inner phone pocket and a small inner pocket.
This clutch lacks practicality as it, has no sling in it making it tough for the wearer to hang it along. With a lack of space, this is a big no to be an office bag or a shopping bag. But you can take this sofa not to sit on it but to hold it, calling all attention to yourselves at once!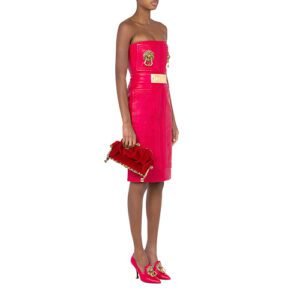 Undoubtedly, the glistering of the enamelled surfaces and their dynamic designs exert their own effect but a bag with no comfort is not what one asks for either! Having brass detailing on the edges; it is prone to getting tarnished and can cause allergic reactions. Being made out of velvet, the bag can give a luxury feeling to the 'sofa' but has some cons. It wears out quickly if used frequently and absorbs dust easily and resultingly can degrade its texture ruining its fabric.
Transforming a star studded lavish piece of furniture into furniture can be a must-have for some and bizarre for some. So, decide and pick which side are you on? If you think that this is the sofa that can complement your home interior, go for it!