Nothing about her remains classified now, as we archive our conversations of intuition and femininity with the lady herself. Ladies and gentlement, put your hands together for the woman who just made history, Jacqueline Fernandez…
How did you like the shoot?
It was fab! Honestly it was one of the coolest shoots I've ever done. We had a fantastic team and we knew exactly what direction we were going in. We used a really small space but we were able to experiment so much and have a lot of fun with it. I think there was a great teamwork and that's what always matters to me. It was a great shoot.
The theme of the shoot was loosely 'woman in a man's world'. Do you think women are trying to fit in a man's world?
I wouldn't probably draw a line that segregates a man's world from a woman's. There's equality for all. Whether people like it or not they have to come to terms with it. If you don't get it then there will be a fight for it. And it's not just gender based, but spreads out to a lot of things like race, economic  standing and religion too. It's about who you are and what you stand for. I think what we shot was a celebration of how we have achieved what we were not able to achieve before. We are at a stage when it's not even an argument, or a topic to discuss. It's as natural as it can be.
Are you intuitive? Do you fall back on your instincts more than conscious reasoning when making a decision?
I've grown to be intuitive now. Sometimes my mind gets confused between my emotions and my feelings. And I think you have to be so when you are a single girl, working in this industry independently, living on your own… I think you've got to be very in-tune with your surroundings and situations. It was a bit of a struggle in the beginning because I come from a very gullible and naive background. But somehow my intuitions sharpened a lot. So, now it's almost instinctive… it's funny that I've always been like that but it was clouded at times by emotions or other things. Now it's pretty brushed up. But there have been times when I've erred, but that's OK, we're only human (smiles).
But there have been times when I've erred, but that's OK, we're only human (smiles).
How do your instincts look like when it comes to matters of the heart?
Well… (laughs). It's a bit tricky right now. I have basically shut off a lot of the matters of the heart from making any noise (laughs). I feel I'm in that phase when I don't have time for it, and I'm not even making the effort to make any time for it. It's also because I'm pretty ambitious. I have a goal and a certain time frame for that goal as well, so I think right now nothing can come in the way. Fortunately or unfortunately it's helping me a lot to concentrate on my work. At the end of the day it's bringing me a lot of satisfaction.
You want to do roles that are action based. In fact two of your upcoming movies are quite action packed too. Does that not hurt your feminine image?
Not at all. I actually find it very feminine for a girl to be able to perform action, because girls have a lot of inner strength to be able to do that. I think it's a new era femininity that has kind of exploded. It's not docile and fragile anymore. Femininity has evolved, where a girl has her dignity and respect but she also stands up for herself. And that's why I love action. It's a very liberating experience. It's quite rare as well.
In most of the mainstream Hindi cinema we see heroines being romanced by the hero. What's your take on that?
At some point it's fun to do, because we all like to live in a world where love conquers all and we want to be romanticised. But if that's the only thing that you're going to be doing all your career long it gets pretty dull. I'm definitely happy with it, it feels great. But if you want to contribute more to the cinema, to your own career, from a personal perspective, you get hungry for some variety. But yes, the more common roles that come about are like that and people enjoy watching them.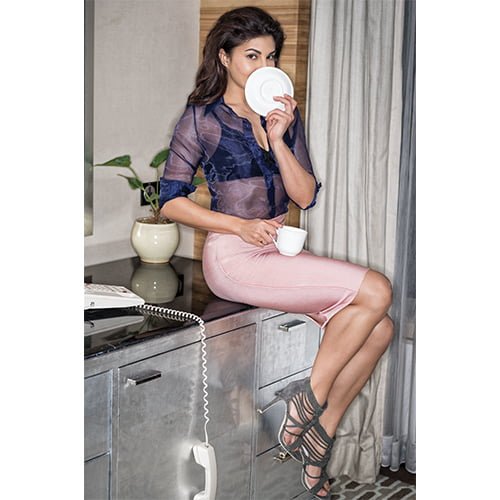 But yes, the more common roles that come about are like that and people enjoy watching them.
"Everyone has a favourite actor. Who is yours? Have you been able to share screen with him or her so far?
If you're talking about Leornardo DiCaprio, then no (laughs). I met him once at a party and it was funny because I was so star struck that I couldn't even look at him. And I think I came across as very snooty and snobbish, and later I was like 'God! Why did I do that'. But honestly I have so much respect for that guy. I've grown up watching his films, everything from Titanic to Romeo & Juliet, they're so iconic. Even now he's producing some really amazing work. He's almost too good to be true. I'm a huge fan!
Work wise there is a lot that you are involved in right now. Films, restaurants, brand endorsements, and more… how many hours does your day have?
I know! Sometimes I just wish I had more hours in a day. I am someone who has always struggled with time management. I never ever found enough time to do stuff, and Akki once told me that if you think you don't have enough time then you need to work on your time management. And I was like, so true… I start my day really early, around 5:30-6:00. When we're shooting you have to pull yourself out of the bed that early because you have to go work out. And on my off days I go riding in the morning, so I have to be up early for that. It really helps put my day to a really good space. Once you have the morning time to yourself you can do a lot of things. I even read a lot of books on time management (laughs).
How much do you sleep?
I sleep a good seven hours. I try to get into bed by 10:30 and sleep by 11. I start shutting down at around 7:30-8:00 in the evening (laughs). Even my directors know that (laughs). I am the most productive in the morning. Anything creative, I ask it to be done during the day time. I usually don't keep anything for night because it just becomes counter-productive for me. But sometimes it kills me because this is a very night shift industry. People out here don't really sleep, especially at night. I feel like I miss out on a lot of things because I'm not a night person.
I feel like I miss out on a lot of things because I'm not a night person.
Not just that you also stay connected with social causes. Tell us more.
I think I've just become a big advocate for animal rights and wildlife conservation, because I realise they are an important part of our eco system. Firstly it is because of the humanity aspect of it. I don't feel it's right that any creature should be harmed in any way. We should be seen more as protectors. Secondly, because everything is interconnected, from the environment to our eco system to the animal world that if we don't wake up to it, it's not going to be great for our future. We have charities like Habitat for Humanity that don't only work for building homes but also look at educating. I also wanted to get into marine conservation because it's a very neglected space. But it's difficult to manage everything because you have to devote individual time to it. So, I feel I do some bits here and there.
Did you have a pet as a kid?
I actually had a lot. I had a zoo (laughs). We had seven dogs, rabbits, parrots, turtles. I've brought home a baby mouse once, then I used to bring home so many abandoned kittens. I actually thought that I'd be a veterinary doctor, because I was so passionate about it. When we went back to Sri Lanka we had monkeys all around all the time. It was amazing. Then it was the horses. I was really into horses when I was in Sri Lanka, and here too I've recently restored that. Now I'm back to riding them.
These days a lot of actors are also turning singers. Do you sing too?
Well that's something I do in my own space, with friends and all. But I wouldn't want to take it up professionally because then it would just take the fun out of it. I come from a musical background… my dad was in a band. He taught us how to play a guitar and bass and a bunch of other instruments too. My dad was a DJ as well, so while growing up I had those influences on me. I actually did sing two lines in a song in GF BF, which was a lot of fun. But it's not something that I would become too serious about.
What is a happy place in your head?
I think my childhood: growing up with my two brothers and one sister. The house that we lived in, in Bahrain. It was a very happy
household. And I miss it because it's not there anymore and everyone's moved on.
What is your greatest fear?
I have a fear definitely of not achieving what I am out to achieve. I have a fear of giving up, like getting to a point where I'll have to.
One secret about Bollywood that you can tell us as an insider?
Because I've been an outsider myself and now I am inside I think it's really not that glamorous, it's just a big facade. That's what I learnt when I came here. Most of the time all the glamour is not really true.
I actually did sing two lines in a song in GF BF, which was a lot of fun.
FUN & DISCOMFORT
Talking pure ethnicity lingo how would you describe yourself?
Well… I'm like a khichdi (laughs).
Do you get easily embarrassed?
Umm… I do, actually. But I think I'm able to laugh off about it, make fun of my own self because then it lightens up the whole energy.
How good is your capacity to drink?
Horrible! Terrible! I can't even get through one glass of wine. The last time I drank literally two glasses of wine was in New Years. I had to drink it because I was freezing (laughs).
What kind of men do you find sexy?
I think men who have good manners. I find them really sexy. Also, I find those men really sexy who are very knowledgeable but don't say that much about it.
One positive and one negative aspect of one night stands?
I've never had a one night stand, so I don't know obviously (laughs). But a positive would be if it was terrible you wouldn't have to see the person again. And the negative… if it was amazing for you and the guy didn't want to see you again (laughs). It may also have some really bad situations, but I don't want to say any more (laughs).
What do you think of when you hear the following words?
a. Kung Fu – Panda
b. Donald Trump – Orange hair
c. Elections – mayhem
d. Superman – chaddi (laughs)
e. FHM – sexy
If these politicians asked you out for a date, what would you say to them?
a. Donald Trump – I would politely decline because he's married.
b. Narendra Modi – I would definitely want to go for a date with him, because I think he's very interesting and I'd have a lot of questions to ask.
c. Rahul Gandhi – Umm… (laughs) I think more so about the family. I'd probably like to hear about it first hand. And I hope you know all these dates are not romantic (laughs).
d. Kim Jong un – Oh my God! I don't think he's someone I'd like to go on a date with. But if he's right at the doorstep, I'll just say "I'm so sorry but I have a shoot" (laughs).