After the defence ministry of India stated the accidental firing of a missile into Pakistan, some creative netizens came up with the funniest memes that will not just tickle you but, will also beat those Monday Blues.
After India mentioned that a missile was accidentally fired into Pakistan due to technical malfunctioning, while it became a serious situation between the two nations, it wouldn't be a lie to say that the incident tickled the funny bones of netizens. As the World is aware of the political tension between the two nations, the incident could have created possibilities of Pakistan taking a step against the action by the defence ministry, even if it was by mistake.
Earlier this week on March 9, the Defence Ministry of India stated that an accident took place due to a technical glitch and the incident is deeply regretted by the ministry. "On 9 March 2022, in the course of routine maintenance, a technical malfunction led to the accidental firing of a missile. The Government of India has taken a serious view and ordered a high-level Court of Enquiry. It is learnt that the missile landed in an area of Pakistan. While the incident is deeply regrettable, it is also a matter of relief that there has been no loss of life due to the accident", stated the defence ministry.
Although there was no harm to life because of the incident, the incident still can take the form of a severe attack if Pakistan takes it that way. According to the claims by Pakistan, the missile flew 100 km inside the airspace of the nation and an investigation into the accident has been called for.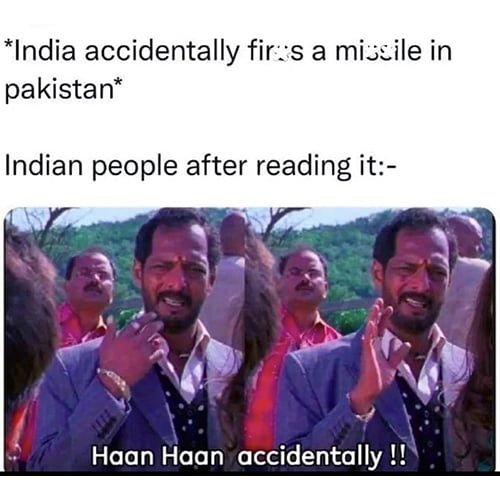 And that is exactly how most of us reacted when we got the news, didn't we? It was just an accident after all. 
While there is no doubt about the seriousness of this issue, like many of us, there were netizens who found this 'accident' funny. The internet was flooded by not just some, but so many memes, and let us tell you there are too funny to control your laugh.
Well, there is no intention to hurt the sentiments of anyone, we found these memes to be the top ones to tickle your funny bones and we are sure you would also relate to them as much as we did.
So here goes a dose of laughter.
A user on Twitter made a hilarious post referring to WhiteHat Junior. those who know, know.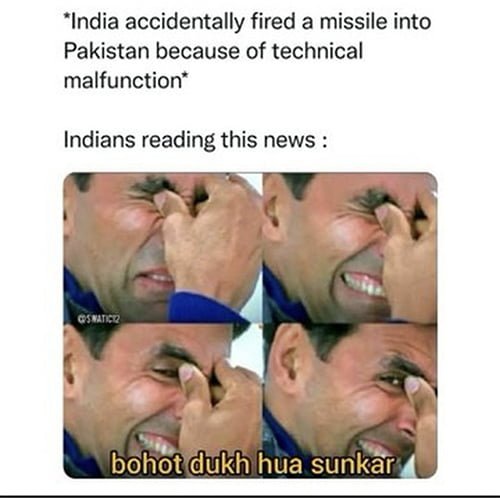 How can we NOT include AK when it comes to memes? Because just like him, we too felt bad.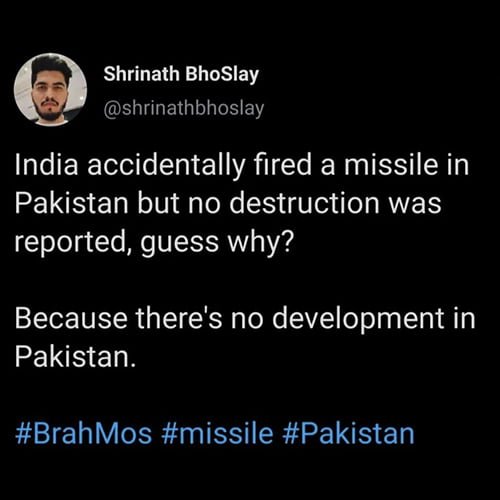 Oh dang! That was too witty but we know to some extent, that is true.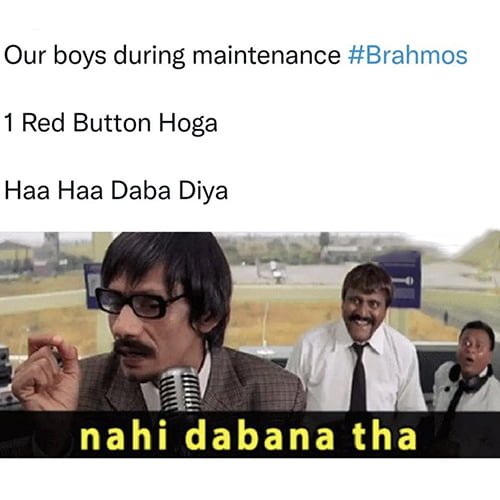 This scene from the movie 'Dhamaal' has a separate fanbase but, this meme is too good to be relatable for the #Brahmos accident. 
Looks like Home Minister, Amit Shah was too happy after winning the elections. You know what we mean, right?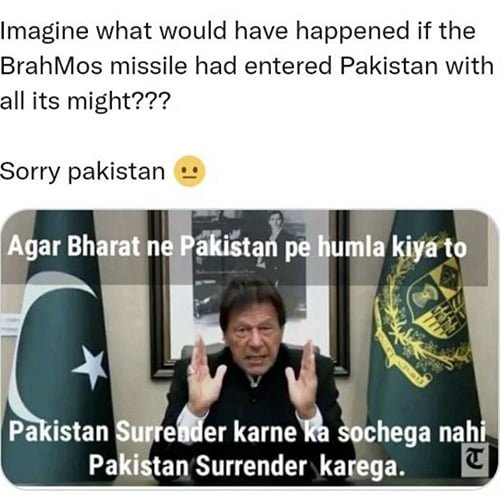 They say save the best for last, so here it is. 
These memes are for entertainment purposes only and we do not wish to 'accidentally' hurt anyone's sentiments with these missiles of laughter.