For the ladies looking to add a little bling to their wrists. Don't worry, we have lots of options for you, just read on!
With the humble goal of always delighting our readers, FHMax is truly the best portal when it comes to online shopping. Now, hear us out, online shopping is a truly liberating and relaxing experience, and is made even better when done from a platform that you can completely trust. FHMax is that platform. With e-commerce and online shopping taking over the world, we are sure you don't want to be left behind, do you? Well then fortunately for you, we present to you the ideal platform that you can shop from, even with your eyes closed!
The portal regularly gives exciting offers to its customers and make sure to present them with items ranging from gadgets to masks. It's now time for you to stop searching from other portals and websites as FHMax is here to solve your problems while providing quick, smooth delivery of your chosen product. This time, from the FHMax website's Femme section we have picked out the most gorgeous accessorial pieces that you can buy for the ladies in your life, it will surely delight them immensely. After all, who doesn't love a little bling for their wrists, right? Truly exquisite and beautiful, these bracelets and watches are sure to add another level of glam to your already perfect outfits. And don't forget to check out the amazing offers on them all. 
1. Butterfly, Stone Bracelet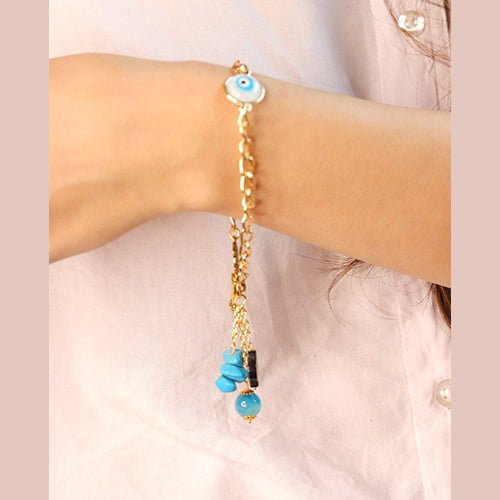 The bracelet features an evil eye stone and elegantly adds holiday charm to your outfit.
Picture this truly gorgeous bracelet adorning your wrist, and the others around you envious of your style and fashion. Sounds amazing, right? Well, you can turn this imagination into reality by purchasing this bracelet from FHMax. Featuring an evil eye stone on a gold-plated chain, this statement piece can be paired with casual western outfits and is sure to turn quite a few heads as you walk!
2. Stone Bracelet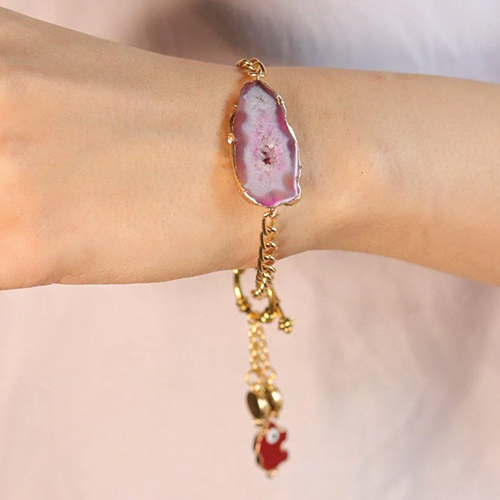 The bracelet is elegant and graceful and will instantly elevate your entire look. 
A chic bracelet that oozes boundless charm from every crevice, this bracelet is going to make your wrist sparkle. Composed of a gold-plated chain bracelet with crystal evil eye stone drops, this bracelet offers a charmingly playful design that can be effortlessly paired with any attire – ethnic or Western, truly, the world is your oyster!
3. Analog Rose Gold Dial Women Watch
The rose gold tone of the watch can contrast perfectly with your outfit, provided you know how to style it properly. 
If you're still treating watches as only an accessory, we are sorry to inform you that you're sorely behind the times! Watches have made it to the list of essential wardrobe pieces for both men, as well as women. So, if it is a stylish piece you're after, take a look at this rose gold beauty AX Watches has to offer. With the perfect amount of bling and sophistication, this AX watch is the perfect addition to your outfit whether it be a formal setting or just a casual outing with your gals.
4. Analog Silver dial With Brown strap Women watch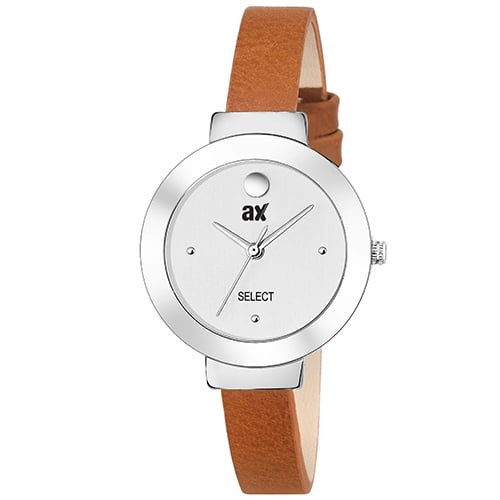 Minimalistic is the new 'must-have' style, don't miss out on this watch that perfectly embodies it. 
If you prefer more minimalistic watches, this Silver AX watch is the perfect choice for you. With a thin brown leather strap, that contrasts with the wide circular dial, the watch is graceful and elegant whilst giving off a truly minimal look. If you love fashion and wish to upgrade your style, then upgrade your wardrobe with this stylish piece that will go with all your outfits and will look perfect in all settings.