While the trailer of the film garnered a lot of appreciation and excitement, the movie was not able to deliver what it promised.
While the trailer of Jared Leto starrer 'Morbius' gave us a lot of excitement and a hint that something really interesting is going to take place… it was not true. Although it was a treat to watch Jared Leto on-screen, the same cannot be said about the rest of the movie due to the lack of ideas that have not been explored creatively and the movie leaves you in nothing but a hell lot of confusion with some great creative plots and on the other hand, scenes which were not necessary.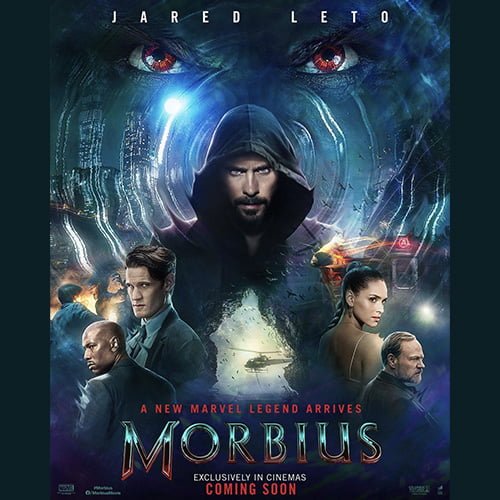 Morbius is reportedly the third film of Sony's Spiderman Universe. 
The story revolves around Jared Leto as Dr Michael Morbius, who is a well-celebrated scientist looking for ways to find a cure for his rare blood disorder, which ultimately turns him into a living vampire with an unquenchable appetite for human blood. Right after which, he realises that he has been cursed. Starting the plot in Costa Rica, Morbius' accompanies insist he leaves before it gets dark, and sends them with a bunch of vampire bats. Rewind to 25 years ago in a hospital in Greece, where the ten-year-old Michael Morbius meets another boy with the same blood condition and calls him Milo (still don't know if that was humour or arrogance), who is now the investor for Morbius' experiments.
Honestly, it is a treat to the eyes when you watch Jared Leto perform. 
Dr Morbius creates synthetic blood while looking for a cure to his illness, which helps a lot of people around the world, but he believes that is nothing but just a by-product of one of his failed experiments. After which, he starts the experiment with the blood of vampire bats that he brought from Costa Rica, in an attempt to utilise their genes to cure his medical condition. He unbelievably succeeds, but with some disastrous side effects like an unquenchable thirst for human blood which he doesn't have control over. Along with superhuman powers, echolocation and reflexes. When Milo realises his friend has finally found the cure for their medical condition, he delightedly embraces the dark side of Michael Morbius and tries out the cure even after many warnings by him. That's when things take turn for the worst, but the rest of the film could've been much better in terms of action sequences.
A still from the movie where Morbius turns into a Vampire.
Martine (played by Adria Arjona), who is Morbius' colleague and girlfriend, has also given her best, although there has been no connection of why she also turned into a vampire when she drank Morbius' blood while dying. Jared Leto deserved a better storyline to perform in his solo film (as per the reports). The only thing that helps the audience to sit and watch the 2-hour-film is the cinematography, which deserves special appreciation.
The climax and the story do not leave any special impact on your mind and give a bland experience. It is quite clear that the writers have not put much effort into exploring the world of creative bonds and have focused on everything else unnecessary. There is nothing in the movie in terms of action and supernatural world, that we have not already seen in the MCU.
Jared Leto's looked dope at the premiere of the movie.
However, the top-class VFX will give you a thrilling effect while watching the look that has been given to Jared Leto as a vampire. Overall, the movie isn't very good, but bits and parts of it are quite engaging and you just can't miss leaving your screen when Jared Leto is performing.