A watch that made it to the most wanted as well as the most hated lists at the same time, the MoonSwatch terribly fumbled the bag. Take a look.
It's pretty much common knowledge now that Omega and Swatch partnered up and out of the partnership, the BioCeramic Speedmaster MoonSwatch was born. The premise? A series of 11 timepieces, all in a variety of colours, and all drawing inspiration from a different body in the solar system. The premise was certainly interesting, but the execution was utterly poor, so much so, that a mere few months after the launch, the watch made it into the 'Worst Watch' list. Today, we tell the story of two brands, both known for completely different reasons, coming together to produce a watch that was to be the new 'It' watch of the year. But, the bitter pill of reality was then to be swallowed, which brought about the realisation of the watch being nothing except a plastic toy. Let's discuss it a little more in depth.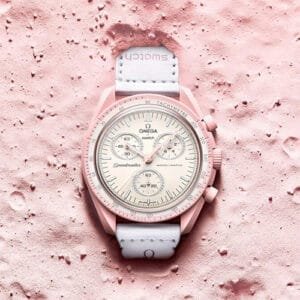 MoonSwatch, Mission to Venus variant
If we were to be a little crude, the MoonSwatch is 97% hype and 3% disposable junk. The intent might have been applaudable, but the execution of that intent puts the watch squarely into the 'Never buy' category. The Omega name is worth something, but the quality of this watch is extremely inferior. For many, the watch stopped working overnight. You'd need to fiddle with it quite a bit, even then it's anybody's guess if it will even start working. The watch is basically just a plastic quartz chronograph, nothing more. Talking about the design, the watch falls short of the true Omega. And while the variants all feature a different design, the "Mission to the Moon" and the "Mission to Mercury" variants come close to the original a little too much. These definitely needed a little difference in design.
MoonSwatch, Mission to Uranus variant
The boutique-only launch for the watch caused Omega to manufacture scarcity, with only a few people being able to get one for themselves. The watch is still not available in huge numbers – only about 30-40 pieces are delivered to the boutiques at a time, even that is done in considerable time intervals. The watches pretty much break after a week, deterring others from purchasing them. The quality is so poor, it can even get scratched by a mere cardboard piece! The colour comes off and the supply issues are still going on. Although, the idea was pretty neat, the execution sours the experience. That said, if you still wish to experience the MoonSwatch, you can go ahead and get one.