When it comes to watches, Swiss watches are everyone's top choice. Let's take a look at some of the best Swiss watches everyone needs to own.
Talk about men's accessories and the most important place will always be occupied by a timepiece. Watches are a great way of keeping track of time without having to undertake the hassle of whipping out your smartphone every time and everywhere. A good watch also serves another function of enhancing your overall look and style. Think of your watch as an extension of your arm and you'll understand the utmost importance many accord to their watch collection. And the first thought that springs to mind when thinking about quality watches is "Swiss Watch." Swiss watchmakers have an undisputed reputation of making the best watches. If it is a watch you need, Swiss watches are what you should opt for.
Since their inception, Swiss watches have managed to cultivate a cult following, thus according Swiss brands their almost flawless record. Putting on a Swiss watch gives one a unique sense of style as well as individuality that is hard for any brand to match up with. You'll find that very few watchmakers match the rigorous standards and excellent craftsmanship of the ones originating from Switzerland. The superb quality, distinctive designs as well as high-grade material makes Swiss watches the best choice for watches. If it is a Swiss watch, you're after, you've come to the right place! We're going to list out some superb timepieces you can count on to last you for several generations so read on to select your favorites.
1. ZENITH, DEFY REVIVAL A3642

Zenith, Defy Revival A3642
Zenith has been passing on its ancestral skills to forge the future and has been fulfilling its destiny of fine Swiss watchmaking since 1865. Since its establishment by Georges Favre-Jacot in 1865, the Swiss watch company has been aiming for great horological heights and has managed to achieve them. The company has several watchmaking firsts under its belt, one of which is the first modern watch manufacturer that managed to become the new norm in the watchmaking industry. Reliability and precision are the two words associated with the Maison that has become a master of ultra-precise timepieces.
The DEFY Revival A3642 is a faithful reproduction of the very first DEFY wristwatch from the year 1969. A robust octagonal stainless-steel case characterizes the watch which has a 14-sided bezel and is paired with a gradient brown dial as well as a steel ladder bracelet. The ELITE 670 automatic manufacture movement powers the watch and the most important part: it comes in a limited edition of 250 pieces, so if this is the watch you've set your eyes, on, you need to hurry!
2. GIRARD-PERREGAUX, TOURBILLON WITH THREE FLYING BRIDGES BUCHERER BLUE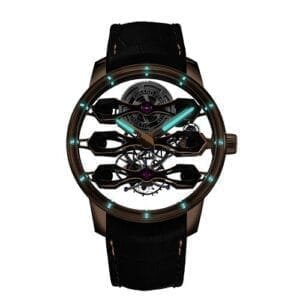 Girard-Perregaux, Tourbillon with Three Flying Bridges
Girard-Perregaux has a long and somewhat convoluted history that begins in 1791 when watchmaker Jean-François Baute established a watchmaking atelier under his name. The Baute firm was then acquired by another firm – Girard-Perregaux – these business maneuvers and mergers allowed the modern-day Girard-Perregaux the ability to claim a pedigree all the way back to 1791 even though neither the Girard nor the Perregaux brand had been born back then. Complex history aside the Swiss brand has achieved many milestones when it comes to luxury watchmaking and remains one of the best Swiss brands on the market even today.
Let's come to the watch now. The Tourbillon with Three Flying Bridges traces its lineage back to 186, with the unveiling of the Tourbillon with Three Gold Bridges that featured the usually hidden parts of the watches as the aesthetic element. The current watch does the same and serves as a unique feature for the watch. The watch is water resistant up to 30 m and the case material is titanium. It has 27 jewels and is a self-winding mechanical watch with a power reserve of 60 hours. A limited edition of 18 pieces makes the watch a must-have and if you're after something unique, then this is the one you absolutely need to own.
3. TUDOR, PELAGOS 39
Tudor, Pelagos 39
A well-known Swiss brand, Tudor was founded in Geneva in 1926. The same person that founded Rolex takes credit for founding Tudor and he developed it specifically as a more rugged alternative to Rolex. The ruggedness of the watches, thus, serves as the calling card for the brand, and very soon, professional divers and military personnel were beating down Tudor's door for watches that would serve them for long. Military organizations like the US Navy SEALS and the French Marine Nationale have made these extremely tough watches as their official military issues which definitely says a lot for the brand.
The Tudor Pelagos 39 has a 39 mm grade 2 titanium case that has a satin finish and features a self-winding mechanical movement with a bidirectional rotor system. The titanium bracelet with the TUDOR "T-fit" folding clasp, safety catch, and diver's extension makes the watch durable enough that you can wear it anywhere without any stress. The watch has a grade 2 titanium unidirectional rotating bezel with an insert in a sunray satin finish. The watch is extremely elegant and aesthetically pleasing to look at, so you can wear it to any occasion without having to worry about how it would look.