Some brands make spectacular jeans, some don't. Mugler seems to have joined that list, read on to find out what to avoid.
Mugler is a luxury fashion and perfume brand that is renowned worldwide. And if that wasn't enough, just the name Mugler is enough to evoke confidence and sex appeal. A brand that is all about theatrical and dramatic haute couture and an emphasis on feminine shapes and silhouettes, Mugler seems to have lost their touch along the way. Confused? We will simplify it for you, we analysed the Spiral Jeans from Mugler, and we are loathe to say, that they completely missed their mark. Let's see how.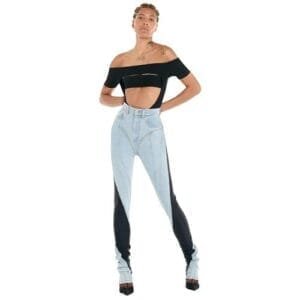 Spiral Jeans from Mugler
These spiral jeans are skinny fit and are made from bi-material denim and recycled jersey jeans. For a pair of jeans made in Italy, they sure should be a statement piece in your wardrobe, but these seem to be a pair better left hidden in some dark corner of your wardrobe. The jeans are blue and have a spiraling panel on each leg in black colour. The denim is 91% cotton, 7% elastomultiester, and 2% elastane whilst the panels are 72% cotton and 28% elastomultiester. Now that we have got the specifications out of the way, let's assess how these actually performed.
First, and the most important of all, these jeans are very difficult to style. Yes, they look absolutely incredible when styled with black or white but if you wish to style them with some other prints or patterns, well, just forget it! They give off a weird look that nobody likes. The other thing to be kept in mind here is that the denim is so stiff, and nobody likes stiff, un-stretchable denim as it can be very uncomfortable. The fabric is quite horrible in that sense, and if you have a curvy body type, you should not even spare these jeans a single glance.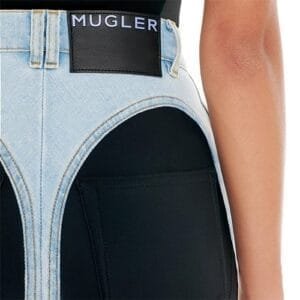 Jeans are a staple piece in every wardrobe. But what if that staple
piece stops functioning as it should? Best to avoid such apparel, we say!
Yes, the skinny fit is absolutely perfect, and the fit is true to size, but the length is another issue here. The extra length scrunches up at the bottom and gives a strange look, not to mention, making it difficult to wear with boots or heels. But overall, the jeans are not that bad, and can actually be styled nicely with black and white apparel. So, if you're looking for bottom wear to match with your uppers, this is the pair you need to go with.