South Korean boy bands such as BTS won fans' support globally with their moves, culture and controversy. To know more about the South Korean band controversy which made a rush all over the internet, keep on reading!
Though Korean bands are limited to South Korea but not until these Korean boy bands made their fans throughout the world. Their fans are spread throughout the entire world and K-pop stars have named their fans such as Army, Blink, ReVeluv and others. K-pop boy bands such as BTS, EXO, Straykids, 2PM(Jaypark), Shinee and others are known for their popular moves. They even made the turbulent noise all over the internet when this controversy got mentioned by the Kpop-stars. Find this controversy right here!
BTS Taehyung was found smoking outside the Grammy.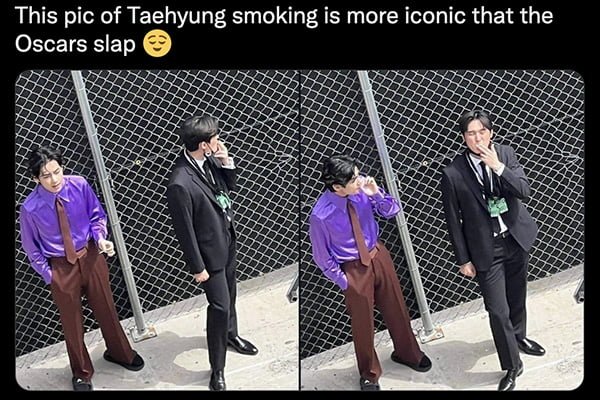 BTS V made headlines with this viral picture of his smoking in Grammy's.
In a recent event this BTS news went viral after Grammy 2022. After their performance on Butter he was caught with a cigarette in his hand, he was wearing a purple silk shirt and Brown pants. South Korean boys causally do not post pictures of drinking or smoking as the industry asked them to play a "Perfect" boy image. This picture went viral after Grammy's 2022 but fans were supportive towards Taehyung smoking. One of the fans wrote, this picture of Taehyung smoking is more iconic than the Oscar slap.
Olivia and Taehyung's chemistry at the Grammy was a highlight.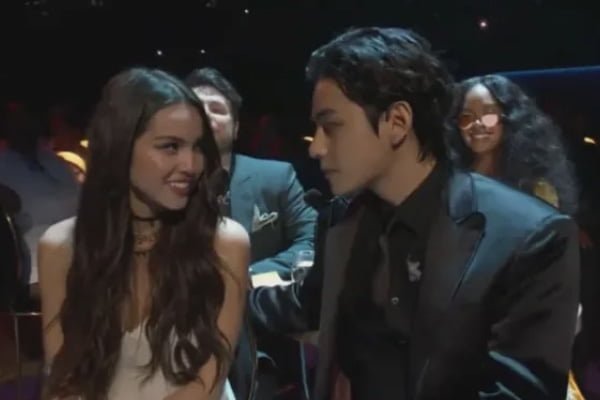 BTS Taehyung's flirtatious interaction with Olivia Rodrigo.
On 3rd April, in Las Vegas, the Grammy highlight was BTS "Butter" performance. One of the BTS member Taehyung in between his performance he went to Olivia Rodrigo and shared intimate interaction during the performance. He came close to Olivia, whispered in her ear and Olivia left a shocking face. This clip went viral on the internet by their "Army" and the fandom went crazy over Taehyung "flirting" move.
Big Bang member Seungri got under prostitute charges.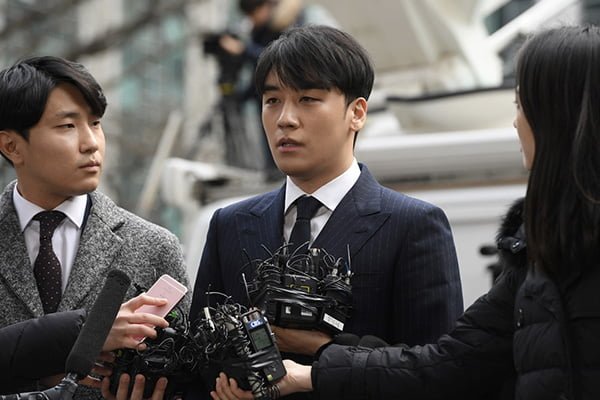 Seungri Big bang got suspected of "Sunburn" scandal.
Seungri was part of the most popular boy group Big Bang; this group had the most controversy. Seungri got into huge trouble when he was accused of habitual gambling, prostitutes and illegal foreign currency trade. This scandal even got popular as "Sunburn scandal" which was about a nightclub in Seoul's glitzy Gangnam neighbourhood.
According to Metropolitan police "Burning sun" is a place for violence against consumer, rape, securing prostitute for VIPs, drug trafficking and drug use. The shocking thing was numerous women claim to get assaulted and drugged at Sun burn club. Police even discovered sexually explicit videos of women, Jung and Choi were sentenced for jail.
Seungri even made a statement on this issue expressing about all past events led him to struggle and he will get retired from the entertainment industry, he posted this on Instagram on 11 March 2019.
BTS member Jin was found with bag of condoms.
Shocking, when Army gifted BTS Jin condoms.
In 2010, Bangtan boys were also known as BTS. They made their first debut in 2013. This group got popular all over the world and they started being noticed for their moves, personality and their culture. Army cherished and loved them so much that this incident with Jin went viral on the internet. In 2014, Jin's picture got posted where he was eating fruit and the fan spotted a condom. When Jin was asked about the full bag of condom he revealed that one of his "Army" fans gifted him this. This picture went quite viral on the internet and made a highlight for BTS Jin.