On the birthday of Kailash Kher, we bring you some top hits of the Artist that stands him different from others. Check Out
Kailash Kher was born on 07 July 1973. From his childhood, as he was brought up in a musical atmosphere, from his school days, he was very much fascinated by music. He was keep listening to Indian Classical singers like Pandit Bhimsen Joshi, Pandit Gokulostav Ji Maharaj, Nusrat Fateh Ali Khan, and Lata Mangeshkar.
After getting graduated from Delhi University, he moved to Mumbai to pursue music as his full-time career and to become a professional singer. After struggling for many years, finally he got his first breakthrough song 'Rabba Ishq Na Hove' from Andaaz (2004) which become instantly very popular at that time.
Then songs like Allah Ke Bande, Teri Deewani, Arziyan, and Yun hi Chala Chal Raahi, make him a mainstream singer in Hindi Films. other than Hindi songs, he also sang songs for other industries as well.
Kailash Kher is one of the gems of the Indian Music Industry. Indian folk music and Sufi music have an effect on Kher's singing style. His melodious voice and soulful compositions have been capturing everyone's hearts for many years now.  He has sung more than 500 songs in 20 different languages, which is a milestone in itself. As a singer is celebrating his 50th birthday today, let us look at some of his top hits and evergreen songs  
Allah Ke Bande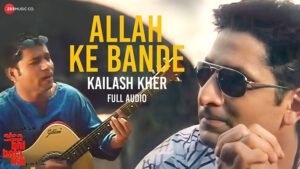 'Allah Ke Bande' was the 2nd song of Kher in Hindi Films after 'Rabba Ishq Na Hove'. 
Allah Ke Bande is a moving song from the 2003 film "Waise Bhi Hota Hain Part 2." Even today, many of you do not know about the film, but everyone knows about the song, which always gives you a sense of strength to fight with your lows, and this song teaches you that no matter how today is, tomorrow always comes and you can start a new journey in your life. Allah Ke Bande means 'Child of God, and it encapsulates the spirit of resiliency and optimism. It is an anthem for people who are facing problems in their lives.
Arziyan
Delhi-6 was released on 20th February 2009. 
Arziyan was sung by Kailash Kher and Javed Ali, who is also better known for his Sufi music. It is a song from the 2009 movie Delhi 6, starring Abhishek Bachchan and Sonam Kapoor. Along with Arziyan, the whole album of this film is amazing, and you never get bored from listening. The soundtrack was composed by AR Rahman, and this song depicts a man who was tired of life, but now he is totally surrendered in front of his god, and his every prayer is already known by that almighty.
Mere Nishaan
The sequel of OMG: Oh My God is set to release on August 11, 2023.
Mere Nishaan is a beautiful and soulful song from the film OMG: Oh My God. In this song, you can see a god who is roaming in between the people searching for his sign (nishaan) which he gave to us. But, unfortunately, the god finds that he is divided into different names, cultures, regions, etc. Everything is created by him, but now only the marks made by him are not in this world.
Teri Deewani
The first album of Kailash Kher 'Kailasa' was released in 2006. 
This list will be incomplete without two songs, one is Teri Deewani, and the other one you will find further. Teri Dewaani is a song from Kailash Kher's debut album Kailasa. The album was eponymous to the Indian Sufi or Fusion band which was led by Kailash Kher. Teri Deewani is the first song from the album which centers the ideas of love and devotion, and Kher's voice adds depth and intensity that creates the unforgettable experience with the song. Teri Deewani is still popular among music listeners.
Saiyyan
'Jhoomo Re' is the 2nd album of Kher which was released after 1 year of 'Kailasa'. 
Saiyyan' is another evergreen hit by the iconic singer which was part of Kailash's band Kailasa's second album 'Jhoomo Re'. Kailash Kher's song Saiyyan is incredibly moving and has mystical overtones. His heartfelt lyrics and soul-stirring voice capture the depths of yearning and surrender. It transcends language and culture and creates a tapestry of classic folk components with a modern twist that strongly affects listeners.
His other notable works in Industry are Ya Rabba from Salaam-e-Ishq, Yun Hi Chala Chal Raahi from Swadesh, Chand Sifarish from Fanaa, Kaun Hain Woh from Baahubali, and so on.