Happy Birthday Kishore Kumar: From Bheegi Bhaagi Si to Rim Jim Gire Saawan, these evergreen songs will make your monsoon pleasant and generate more romance in you. Check out. 
Throughout his career, the legendary singer Kishore Kumar sang countless songs that remain popular today. He passed away in 1987 but continues to live on in the hearts of his followers despite being born on August 4th, 1953. The anniversary of Kishore Kumar's birth is today. Today, on this important occasion, we share with you some of his most enduring tunes, which can cheer and romance your heart during the rainy season.
Kishore Kumar, a well-known singer, actor, and producer, has significantly contributed to the Hindi cinema industry. Although he passed away many years ago, his fans still remember him. Even now, his presence is felt through his well-known tunes. Check out his iconic monsoon special songs on his birth anniversary.
Ek Ladki Bheegi Bhagi Si (Chalti Ka Naam Gaadi)
Kishore Kumar sang this song. Everyone must be familiar with this song from the 1985 movie "Chalti Ka Naam Gaadi." This song is still a huge hit and is still enjoyed by listeners even after 38 years. The mood changes to love after hearing this song.
Bheegi Bheegi Raaton Mein (Ajnabee)
This Kishore Kumar song may be found on the 1974 movie "Ajnabee" soundtrack. Once you've listened to this song, you'll become engrossed in the singer's voice and the beautiful chemistry of Rajesh Khanna and Zeenat Aman will not let you skip the song.
Rim Jhim Gire Sawan (Manzil)
This song is essential to the rainy season. There is also still the Sawan month. You haven't heard anything unless you've heard this song. From the film "Manzil," Kishore Kumar performs the well-known song "Rim Jhim Gire Sawan" from the heart. This film 'Manzil' was released in the year 1979. Fun Fact is this song goes on trending when a old couple recreated the same scene in Mumbai as same as the character of Amitabh Bachchan and Mousumi Chatterjee.
Pal Pal Dil Ke Pass (Blackmail)
Another classic song of Kishore Kumar is "Pal Pal Dil Ke Paas," which stars Dharmendra and Rakhi Gulzar. The song's soulful performance by Kishore is nicely complemented by its calming music and sentimental lyrics. It continues to move people of all ages and is a timeless representation of the golden age of Bollywood music.
Roop Tera Mastana (Aradhana)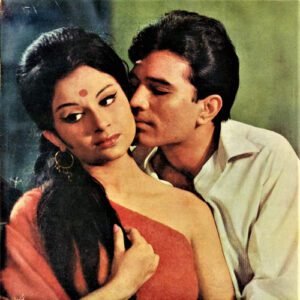 Aradhana is one such movie whose every songs are very popular till date. Be it 'Mere sapno ki Rani' or 'Roop Tera Mastana'. Roop Tera Mastana is a romantic track which has a special feature that it is shot in just one take. The sizzling chemistry of Rajesh Khanna and Sharmila Tagore make this song more accurate for monsoon.