Legendary Actress Rekha will introduce a new cast of Star Plus' most popular Show 'Ghum Hain Kisi Ke Pyaar Mein'. Read On 
Even though Bollywood's Evergreen Actress Rekha Ji is away from the films, she never fails to surprise her fans with her special appearances. Now, the actress is ready to make her comeback on Television with one of the most popular shows of Star Plus 'Ghum Hain Kisi Ke Pyaar Mein'. No, she will not act in the show but will introduce new characters and cast members in the new promo which will be on air in the next few days.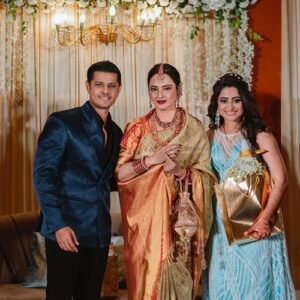 Rekha at Neil Bhatt & Aishwarya Sharma Bhatt's Wedding Reception. 
If after Anupama, there is any show who is ruling Television since its launch, then it is Ghum Hai Kisi Ke Pyaar Mein starring Neil Bhatt, Ayesha Singh, Aishwarya Sharma Bhatt, and Harshad Arora. And now the show is all set to take a 20 years leap and a new star cast will be introduced by none other than everyone's favorite "Rekha Ji".
Because the show will soon experience a Generation Leap, the creators are ready to add additional turns and twists. They will soon give fans a preview of the post-leap episodes by releasing a trailer. Rekha association with the Soap Opera Ghum Hain Kisi Ke Pyaar Mein has always been very special, ever since the show commenced as she also introduced the first leads of GHKKPM, i.e., Neil Bhatt, Ayesha Singh, Aishwarya Sharma Bhatt and it is increasing with this latest news as well.
Ayesha Singh at International Iconic Award 2023. 
As per some reports, Rekha will shoot the promo on 18 June 2023, In Mumbai. Though there's no confirmation about who will play the character of Savi Chauhan and Vinayak Chauhan, who will be seen as lead characters after the leap, the rumors are that Bhavika Sharma and Shakti Arora approached by the makers to play the lead in the show. However, the report has not yet been verified.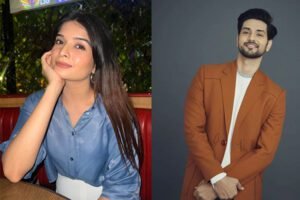 As per the report, Bhavina & Shakti approached to play lead in GHKKPM.
In between the news of the Generation Leap, the makers of the show released a new promo that hints at Sai (played by Ayesha Singh) and Virat (played by Neil Bhatt) being killed off in a plane crash. The couple was shown to be reunited at last against all odds but soon their airplane is met with a horrifying crash and the story of Sai and Virat #Sairat will come to an end.
For those who don't know, let us tell you that, Ghum Hain Kisi Ke Pyaar Mein was loosely based on the successful Bengali Television Show 'Kusum Dola' which was also very successful & popular among Bengali audiences. GHKKPM produced by Piya Baijiee, Pradeep Kumar, Rajesh Ram Singh, and Shaika Parween was first aired on 5 October 2020, and since then the show is being in the top 5 shows of Starplus.