It seems like Alexander McQueen tried to put a vintage touch to their Ready-To-Wear collection. Did it work or not? Read on and find out for yourself!
Alexander McQueen has been a name to contend with in the fashion world, no doubt. But even the best of them all sometimes slip, don't they? The label's Sartorialist touch is present in all their collections. And so is their love for colours. But sometimes, even the best-designed clothes fail to make a mark. The label's new ready-to-wear collection features a lot of gorgeous pieces, no doubt. But some just didn't make the cut. We're looking at the Cocoon Sleeve Polyfaille Mini Dress, in Cerulean, from their ready-to-wear collection. Let's see how it fares.
In a bright cerulean blue, this 100% polyester dress plays with volume. Although intended as a chic party dress, we feel the brand failed in this. The colour is too bright, and a little gaudy, for it to be worn during the day. But for parties and other night events, this dress is a little too plain-Jane. There are no other accents on it, besides the long, front zipper, so the dress does not have any other special additions to boast of either.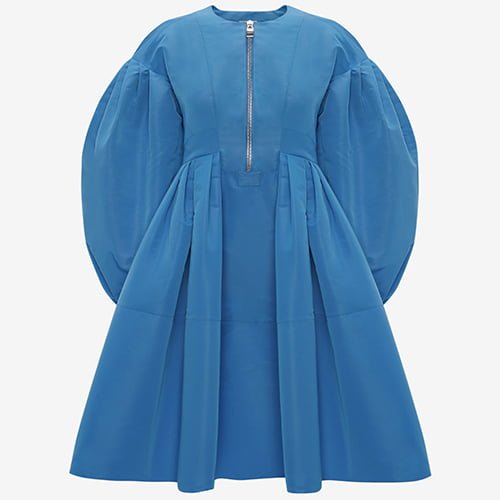 The dress features no other accents except a long, front zipper giving it a very plain-jane look.
The dress certainly plays with volume, with billowing puff sleeves and gathered cuffs along with a flared skirt enhanced at the waist. Which, we have some serious concerns about. The trend for puff sleeves keeps going in and out, so we don't know how long this dress will stay in trend. Although tapered puff sleeves are trending currently, this dress features simple puff sleeves, so it was a poor choice here. The flare seems to be a 90's inspired element, but we feel the dress would have looked better if the puffed sleeves were skipped. The dress has a subtle sheen and the zipper certainly adds a rugged touch to it. The fit is also true to size, which is a relief in this online world, as you can purchase this without any concerns.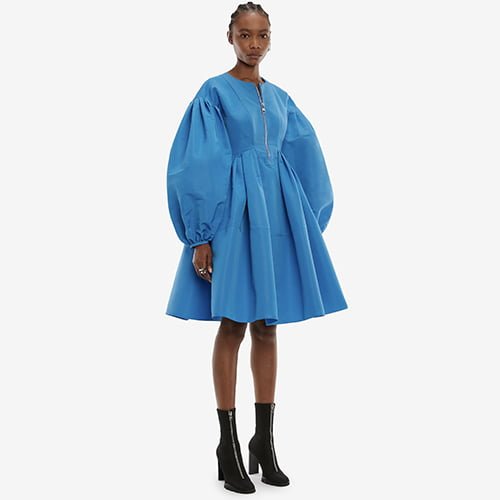 The dress plays with volume, featuring billowing puff sleeves, gathered cuffs, and a flared skirt enhanced at the waist.
The neck is a simple cut. We feel it could have been a little more unique, like the other dresses in the collection. Although polyester looks great and provides a sheen to clothes, otherwise impossible to achieve with other fabrics, it comes with its own set of disadvantages. The dress is therefore not going to be very breathable, which is going to cause discomfort as it is intended to be summer apparel. The dress is also a little difficult to style, owing to its plain look.
Although you may not be able to wear this dress to fancy parties, you can certainly wear it to small gatherings and for everyday wear, this is perfect. If that appeals to the fashionista in you, go ahead, roll the dice on this one.