Ranbir Kapoor – Alia Bhatt's wedding is an inspiration for new-age couples because less is more.
Ranbir Kapoor and Alia Bhatt have finally tied the knot and from the rumours of the couple getting married to the wedding pictures that are finally out now, we just can't stop falling in love with the fact that how adorable they both look with each other. Although many of us were listening to 'Channa Mereya' on the day of their wedding, many of you would agree that the minimal style of wedding that RK and Alia chose, was very intimate, fun and adorable, just like these two love birds.
Looking at the pictures from their wedding, we're falling in love, too!
Since the day that rumours of the couple getting married have been flying around, there have been numerous speculations about just EVERYTHING. Take it décor, outfits, venue or guest list, fans were getting curious about this Bollywood wedding for quite a long time now. While people were expecting the couple to have a big-fat-Punjabi wedding, Ranbir-Alia had something else planned and we are crying happy tears while looking at the pictures. The couple went for a minimalist wedding in all aspects and all of it looks just PERFECT! This newly-wed Bollywood couple has proved that it is not important to have a big-fat glam-sham wedding. If you did not just look at the wedding pictures posted by Alia Bhatt, but also read the caption she posted, then you know how intimate and special their wedding was. Getting married to the love of your life in the same spot (the balcony at RK house) you have spent so much time is much more than just special.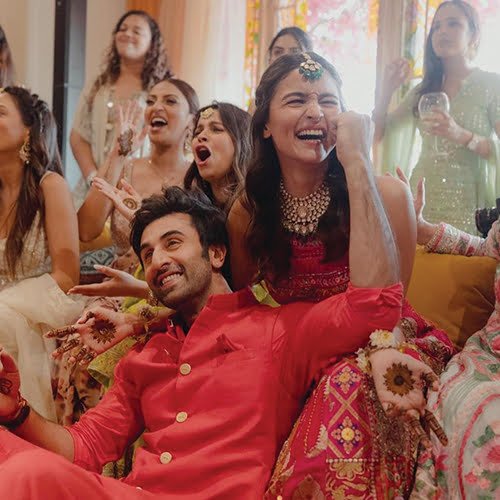 Ditching the whole glam-sham thing, Ranbir and Alia tied the knot around their close friends and family.
Talking about the speculations of fans about Alia choosing between Manish Malhotra and Sabyasachi, despite all the other things, Alia gets extra points for breaking the stereotype of the red bridal lehenga and choosing a beautiful hand-dyed ivory organza sari with special hand embroidery. Although she did not stick to her famous dialogue, 'Shaadi karungi toh Manish Malhotra wala designer lehenga pehen ke', Alia Bhatt decided to wear Sabyasachi for her big day and Ranbir Kapoor wore Sabyasachi's embroidered silk sherwani with uncut diamond buttons. The décor at the Kapoor house was also minimalist and dreamy with fairy lights and floral decorations for the Mehendi ceremony. All the rituals took place in the presence of family and very close friends of the groom and bride Ranbir and Alia.
The gorgeous couple chose to wear Sabyasachi for their big day.
Well, not just the outfits and décor, the pictures and moments that were captured during the ceremonies were also special and kept low-key. Cozy candids on the day of the wedding and slow medley dance with the love of your life, all the new-age couples out there, please take notes because this is all you need for your wedding. And how can we miss the glow and happiness that Alia had on her face while she shattered the traditional heavy makeup look and decided to go for a no-makeup- makeup look? An elegant stroke of kajal & freckles with lips in nude shade lipstick and just a simple bindi, he proved that less is more because she still looked so radiant.