Aditya Roy Kapur and Anil Kapoor are set to make their OTT debut with the Hotstar special spy thriller series "The Night Manager".
The trailer of Hotstar's Special "The Night Manager" has been released on Friday. The Indian adaptation of the show is based on John Le Carre's 1993 bestseller of the same name and a remake of the British spy series starring Hollywood actors Tom Hiddleston, Elizabeth Debicki, Olivia Colman, and Hugh Laurie and directed by the Oscar-winning director Sussane Bier. The stellar performance of the cast and plot earned the series 3 Gloden Globe Awards. The Indian version of this Hotstar Special web series marks the OTT debut of handsome hunk Aditya Roy Kapur and veteran actor Anil Kapoor.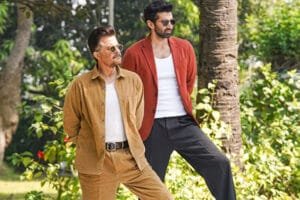 This Hotstar Special web series marks the OTT debut of handsome hunk Aditya Roy Kapur and actor Anil Kapoor
The trailer was unveiled by the makers and the stars of the series at the grand event in Alibaug. This Indian adaptation of The Night Manager is directed by Sandeep Modi. Actor Aditya Roy Kapur will play the role of the Night Manager Jonathan Pine, which was originally played by Tom Hiddleston, who is called "Shaan" in the Indian version, while Hollywood actor Hugh Laurie's character Richard Dicky Roper, an arms dealer is being played by Anil Kapoor who goes by the name "Shailendra Rungta a.k.a Shelly" in the Indian adaptation. This Hotstar Special upcoming web series also stars Sobhita Dhulipala, Tilotama Shome, Ravi Behl, and Saswata Chatterjee. This show is a cat-and-mouse game which is all about mind, power, and betrayal.
Let's talk about the trailer, it starts with Shaan (Aditya Roy Kapur), who found himself in the middle of snow-capped mountains and talking about the depth of darkness. We cut to a cigar-smoking Shelly Rungta (Anil Kapoor) in the picture. He boasts about the incompetence of the Indian authorities who can never catch him. Soon, other characters are revealed. A raw agent Lipika (Tilotama Shome) summons Shaan, whom she describes as Vibhishan, who will help to destroy Shelly Rungta's Lanka.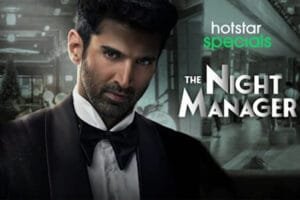 Aditya Roy Kapur Playing the role of raw agent "Shaan"
Shaan takes up the assignment and enters into a ruthless arms smuggler Shelly's life as a night manager at a Hotel, where Shelly came to stay. Shaan uses the opportunity by saving Shelly's son and gains his trust and enters into his business and then began the cat-and-mouse game.
This cat-and-mouse game is all about mind, power, and betrayal
However, Shelly's right-hand man BJ (Saswata Chatterjee) is not convinced about Shaan's motives. Meanwhile, Shaan finds himself drawn to Shelly's wife Kaveri (Sobhita Dhulipala) and they got closer. Which complicates things further. They both find themselves in a web of lies. Will Shaan manage a balance between heart and duty? 
The show will be streaming on Disney plus Hotstar from 17 February. Hotstar has a deal with the BBC, and via its agreement with the BBC, it has produced several remakes. These include the Indian version of Luther, The Office, and Criminal Justice.
Aditya Roy Kapur and Anil Kapoor's Workfront:
Aditya Roy Kapur was last seen in the action film Rashtra Kavach Om, which was a big flop at the box office. He will next be seen in the crime thriller movie Gumraah also stars Mrunal Thakur. While Anil Kapoor was last seen in Jug Jug Jeeyo and Thar. He will be next seen in 'Fighter' alongside Hritik Roshan and Deepika Padukone and In 'Animal' also starring Ranbir Kapoor and Rashmika Mandanna.