Don't let yourself fall behind, avail the trendy stands now! As this trend is gonna grow for years to come.
If you have nomophobia, a stand can help you keep your phone out of sight, and out of mind so you can focus on your task. FHMax has everything from personal grooming to home accessories under one roof and also curates the best trendy products at exclusive prices and offers. The brand stands for the product that is being delivered and ensures the journey from inception to delivery following quality checks. Now, let us welcome FHMax's latest and trendiest launch; Mobile Phone/Tablet stands. This time we are focusing on "Keep your friends close and your charger closer, Reflective Acrylic Tablet stand" in Gold, Silver and rose gold colors. These stands are not limited to the design, layout, look, and appearance. There are unlimited designs and even according to your personal choice. What is better than getting customized services at the best prices, that too under one place?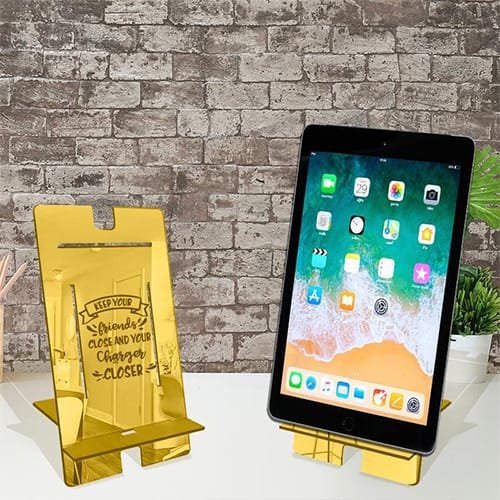 The collection does not just include regular boring stands; it also has reflective and chic stands in innumerable designs and colours offering a range of choices.
These stands are not just regular boring stands, instead they are reflective and chic innumerable designs in different colours that offer a range of choices. And the biggest perk of all is that you can acquire any design, of gold, silver and rose gold for just ?599 including tax! You will find an impressive collection of unique stands having a catchy, goofy, funky, or motivational text written over them. We assure you that with these acrylic stands, you will definitely have less clutter on your desk. You don't have to worry about misplacing your phone/tablet beneath your notebooks, folders, and office supplies. Thus, it will be a great help to people having OCD and will let them make things more organized. The cherry on the cake is that you don't even have to make any changes to these stands because they already look very fascinating.
Aren't these stands, standing out remarkably according to our Gen-Z?
The stands help your device in being clean, safe, and ready to binge the next Netflix video. As holding the phone for a long period can be exhausting and hands often need a break. Through stands, you cannot just relax but also prop your device to make it look cooler, scroll through pics, watch videos without holding the device, and keep your device clean. Thus, you can vibe with unlimited styles that too from laser cutting to stands having practical quotes over them. We really want you to use the product and realize the comfort. There is also an add-on offer of ?199 to get ultra-soft 100X2 tissues. Don't overlook such an attractive deal, instead give a quirky taste to your life for just ?599 by attaining these impressive stands.