From Udta Punjab to Fashion, Here's a list of some Hindi films that talked about the most serious issue of Drug abuse. Read it Out
On 26 June, every year marked as the International Day Against Drug Abuse and Illicit Trafficking or World Drug Day to strengthen action and cooperation in achieving a world free of drug abuse. The purpose of this day is to increase awareness of the significance of treating drug users with respect and compassion.
And, it has happened many times that Hindi Films have talked about such serious topics, which are very important and necessary to talk about. One such topic is Drugs. Hence, here is a list of some films that tried to showcase drug addiction among youths through different films.
Udta Punjab
In recent times, if any film came into the headlines to showcase this serious issue, then it is 'Udta Punjab'. It stars Shahid Kapoor, Kareena Kapoor Khan, Alia Bhatt, and Diljit Dosanjh. Abhishek Choubey's directorial Udta Punjab revolves around the story of drug abuse by the young population in the state of Punjab and also the various conspiracies surrounding it.
Previously, when the film went to the CBFC (Central Board of Film Certification), it was banned due to its excessive use of swearing and depictions of drug abuse. Along with the song "Ud-daa Punjab" and the moments in which Shahid Kapoor was seen using narcotics, the CBFC sought 40 cuts to the movie. But, later co-producer of the film 'Anurag Kashyap' fought against CBFC's demand and got its national release with just one cut.
Dev-D
In the modern-day adaptation of Devdas, Dev-D talks about a man Devendra (Dev) starring Abhay Deol who gets deeper into the world of prostitution, chain-smoking, and regular drug usage when his girlfriend Parminder (Paro) marries another man. Both audiences and critics gave the movie high marks and favorable reviews. Amit Trivedi won Best Music Direction at National Film Award in 2009. The film was only the adaptation of Sarat Chandra Chattopadhyay's 'Devdas' but the storyline, screenplay, and narrative were quite different.
Sanju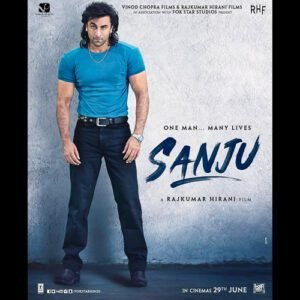 The biopic based on Bollywood Actor Sanjay Dutt starring Ranbir Kapoor also showcased, how usage of drugs and substances related to drugs can destroy your whole career, name, and fame. Rajkumar Hirani, director of Sanju, tried and succeeded in showing the disadvantages of drugs through the life of Sanjay Dutt, who has always been in the headlines because of drugs in the 90s and is called the 'Bad Boy' of Bollywood. In the film, not only we saw how young Sanjay is enamored by the drug-induced hallucination, but we also got to see how much he got frightened when he gets severe withdrawal symptoms.
Kaalakandi
In the whole career of Saif Ali Khan, there are many films of his that went unnoticed by the audience and still, it is considered underrated. One such film is Kaalakandi. Kaalakandi is a black comedy film that was released in 2018. The story revolves around a man, Rileen (Saif Ali Khan) who figures that he has stomach cancer. This news devasted him from the inside. After being heartbroken by the news, Rileen decided to live the rest of his life to the fullest by taking drugs, LSD, smoking joints, cigarettes, and even alcohol.
This combination sends him on a trip of a lifetime, but even after all that, he does not find happiness in the last days of his life. He is still unhappy and alone. This film teaches you that it doesn't matter, how the bad situation you are in your life, drugs are not the only solution to that problem. There are many ways through which you can live your life to the fullest.
Fashion
Madhur Bhandarkar directed Fashion, which showed the harsh reality of the fashion world starring Priyanka Chopra, Kangana Ranaut, Mugdha Godse (debut film), and Arbaaz Khan. The story revolves around a middle-class aspiring model, Meghna Mathur who comes to Mumbai to become a successful model. But her life totally changed when Meghna was trapped in the world of drugs which leads to the downfall of her successful modelling career. Priyanka Chopra bagged a National Film Award for Best Actress at the 56th National Film Awards.