Ramanand Sagar's Ramayan will again make its comeback after being on top of the TRP during the Pandemic. Read to know in detail
The cloud of controversies does not seem to go away from Prabhas and Kriti's starrer Adipurush. In between the whole Adipurush controversy, the OG Ramayan will soon make its comeback on television. After the huge success of Ramayan during the Pandemic, yesterday Shemaroo TV announced through their social media that Ramayan will be rerun soon for the audience.
Shemaroo TV has announced that the Epic Mythological Show Ramanand Sagar's Ramayan will start telecasting from 03rd July 2023, only on Shemaroo TV Channel from 7:30 pm. In the TV Show of the 80s, Arun Govil and Dipika Chikhliya Topiwala ruled the hearts of the public by playing the characters of Ram and Sita, and Sunil Lahri played the role of Laxman (younger brother of Ram).
By sharing the promo of the re-airing of Ramayan, Shemaroo TV wrote, "Coming soon for all you beloved viewers… the globally acclaimed mythological series Ramayan… Watch Ramayan starting from July 3 at 7:30 pm on your favorite channel, #shemarooTV."
Since the release of the film Adipurush, a continuous comparison is going around between Adipurush and Ramayan. From dialogues to the wrong adaptation of the epic story, the makers of Adipurush are accused of hurting the religious sentiments of the public.
Meanwhile, there is a lot going on around the film's controversy. The film continuously faced backlash and criticism. The film was successful at creating buzz but when the film was released worldwide, the appreciation, and love have taken the back seat and it replaced by hatred and trolling.
Aashiesh Sharrma, who played Ram in Star Plus' Siya Ke Ram reacted to the ongoing controversy and gave his statement to the leading news portal. He said, at first, I was quite excited because I believed that our culture was finally waking up to the Bible. We have long been so uninformed about our own scriptures.
We appeared to be waking up at last. When you enter with that kind of anticipation, what you see is incredibly disappointing from the audience's perspective. And it is, even more, disheartening from the perspective of an actor and an artist. Intent and research are lacking in the movie.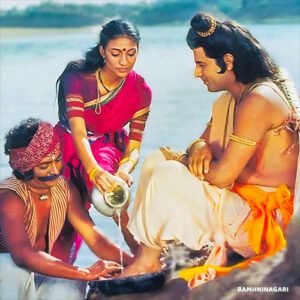 It appears to have been created using WhatsApp forwards and is a lazily constructed effort at the Ramayana. It's clear from the material that you're trying to play to the gallery. It's like simply attempting to profit from the current Hindu movement in the country.
The OG Ramanand Sagar's Ramayan was first aired on 25th January 1987 and become a huge success at that time. Again, it was released during the Pandemic on 16th April 2020 when everyone was forced to stay inside their home, and broke several records of viewership with the record being the most watched TV show in the world with 77 million viewership.