Just like the previous seasons, the third one of Lily Collins' romantic comedy has a clear aim of labels, love, and chaos.
Not to offend the fans of the show but if you've watched the previous seasons of the show, you already know Emily in Paris isn't the perfect fit for you if you're seeking realistically grim fiction. Even one of the film's creators acknowledged being taken aback when Netflix's frothy rom-com received a Golden Globe nomination in 2021. But the third season of the show, which is normally upbeat, should be just the thing if you're in the market for a simple distraction after a stressful year.
The Netflix original film Emily in Paris 3 is best compared to a cheese croissant for the mind because it makes you feel rich while watching it, but its health advantages are still debatable. The concept of depth and clarity in the lives of the ladies featured in Emily In Paris, which was created by Darren Star of Sex and the City fame, is lacking. However, the chirp, the vibrant French setting with that accent, and the diverse representation make it enjoyable to watch.
Season 3 of Emily in Paris is finally out and it no less than a guilty pleasure.
For the unversed, the story of the show moves around the life of Emily Cooper, an American woman who moved to the city of love, Paris, on a work project. While roaming around the city, she realizes to have found love and herself in the city and decided to stay there for a longer time. The first two seasons of the show are all about the lady discovering French work culture, and the struggles that the new city and its culture have to offer. Just like the previous two seasons which were a total hit, this season also gives the audience a great dose of drama, noise, and the same indecisiveness of the characters.
The concept of depth and clarity lacks in the lives of the ladies featured in Emily In Paris.
However, Emily still plays around between two choices in almost every aspect of her life is her real guilty pleasure. We can't hate to love her getting along with the two boys in her complicated love life but we really want her to make a decision. While she's stuck between two boys in her love life, there is another decision she has to make between her two bosses Sylvie and Madeline as she can't hurt them both because of her love for them. Interestingly, these two ladies don't get along much because of the business rivalry.
It's surprising how few strong female characters there are in Emily in Paris for a show that supports women in all leadership roles. Emily is unsure of what she wants from a romantic relationship as well as can't decide between her bosses. There are a few heartwarming moments in Darren's attempt to recreate the Ross-Rachel connection from the classic American comedy FRIENDS in the post-millennial period, but it can be annoying to see a pair who cares for each other a little too much.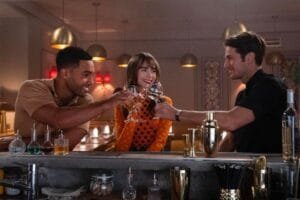 Emily is unsure of what she wants from a romantic relationship.
She certainly generates some of the most creative marketing concepts and tests them out on other businesspeople, but she never asks for credit or payment.
On the other side, the story has expanded to provide readers with a better picture of Emily's surrounding cast of characters. More of her roommate Mindy Chen (Ashley Park), who struggles to advance in her chosen field, is shown. Aspects of Sylvie's personality are explained by the show's exploration of her life, who is constantly cruel to Emily. Additionally, we get to see more of Julien and Luc, two of Emily's co-workers. Bruno Gouery (Samuel Arnold).