India is not just limited to playing Holi with colors and flowers. Let us take you down the lanes of India to see the diverse celebration of this special festival.
For all the passionate lovers of colors, the beginning of this month must have brought a luring excitement as Holi is just around the corner. From waking up early morning to get your stock of water-filled balloons ready, to waiting for the festivals of colors so you could get your hands on those glasses of 'bhaang', we all grew up. But did you know that colors, flowers, delicious food, and water splashes are not the only way India celebrates Holi? Well, here is how the majority of Indian states celebrate the festival of colors in their distinctive ways that reflect their varied cultures.
Lathmar Holi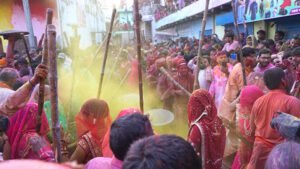 Lathmar Holi in Barsana
Lathmar Holi is one of the most distinctive and well-known in India. As is tradition, Barsana males attempt to invade Nandgaon to play Holi with Gopis (women). As payback, Gopis beat the men with sticks so they would pervert themselves and become colored. Isn't that entertaining to observe and be a part of? Every year, people travel from all over the world to Mathura for Lathmar Holi. This one ought to be on the list!
Baithaki or Khadi Holi
Baithaki Holi in Uttrakhand
Holi is celebrated in Uttrakhand as Baithaki or Khadi Holi, where people gather in traditional clothing, perform traditional songs, and walk the city in tolis (groups). By applying color on their faces, people make wishes for one another. In Uttrakhand, Holi is a celebration of color and fun.
Laddu Holi
Laddu Holi in Barsana
You must have heard about people playing Holi with colors or even flowers. But this one is a little different. Laddoos are used instead of Rang Gulal during the Holi celebrations at the Shreeji temple in Barsana. According to beliefs, this Holi is connected to the custom of accepting Nandgaon's offer to travel to Barsana and play Holi. This method of Holi celebration is thought to enhance love and sweetness in bonds between people. On the following day of Laddu Holi, Holi with colors will be played at Barsana.
Masan ki Holi
Bhasmi Holi or Masan ki Holi in Kaashi
Not many of you would have heard about this distinct way of celebrating Holi. Locally known as 'Masane ki Holi' is celebrated here in honour of Chita Bhasma. Banaras, or Kashi, is the only city in the nation where Holi of Pyre Ash is played amidst blazing pyres in addition to colors and Gulal. On Chita Bhasma's Holi, devotees of Baba Vishwanath dance ferociously.  The folklore holds that Lord Shiva Shankar is believed to start this custom.