From Deepika Padukone to Ilena D'Cruz, here are the list of some Bollywood Actress who mesmerized their fans with Bengali Looks. Check it Out 
Since the Rocky Aur Rani Kii Prem Kahaani trailer debuted and throughout her subsequent promotional tour, Alia has maintained a flawless sense of fashion by wearing traditional sarees that have Bengali silhouettes, fabric and eye-catching drapes that elevate her look to the level of timeless beauty. The stunning Bengali-inspired costume that Alia Bhatt is sporting is from her recently released movie 'RARKPK'.
Throughout her promotional run, she has effortlessly tapped into the appeal of her on-screen character, wearing bustier tops, pure cotton sarees, ombre colours, and sweetheart necklines. This brought to mind some of the most iconic design statements made by prominent actors who had previously played Bengali women on film.
Let's go back to the time when onscreen Bengali female characters gave their outfits and accessories on fleek.
Aishwarya Rai Bachchan as Paro in Devdas
We know in today's time, People find Aish overdressed in the film but Aishwarya Rai Bachchan's opulent portrayal in Devas remains a standard for how Bengal's Rajbaari women dressed. Several stories claim that a total of 600 Bengali sarees were combined and matched to produce novel designs.
The bodice was covered with exquisite needlework and embellishments, and rich colour schemes with pinks and blues were prominent. Even the conventional Bengali saree was thickly covered in embellishments. Her Bengali identity on the big screen was further enhanced by the large kaadas, chokers, and raani haar. Her on-screen persona was made more beautiful by the top buns and the large bindis that Bengali women are known for wearing.
Deepika Padukone as Piku in Piku
In Piku, Deepika Padukone's clothing stood out because of how relatable it was. It was the epitome of ordinary business attire and casual fashion, complete with special accents like a black bindi and a stole that Bengali ladies are known for wearing as accessories.
She made excellent use of both solid-colored and color-blocked kurtis made of the renowned Kantha fabric that Bong women adore. Other details include wide-legged palazzos and handloom sarees, all of which are suggestive of a genuine bong girl!
Sonakshi Sinha as Pakhi in Lootera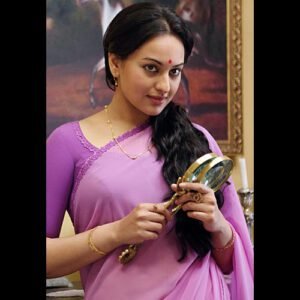 Sonakshi Sinha wore basic, monochromatic sarees with patterned tops for the duration of the movie "Lootera." Sinha's persona, with its gorgeous curls and absence of makeup, exuded innocence. The 'Lootera' actor portrayed a landlady's daughter who falls in love with a con artist.
Tripti Dimri as Bulbbul in Bulbbul
In Bulbbul, the transformation from a little girl to a lady out for vengeance is so masterfully captured through costume. In keeping with her character, who initially plays an innocent woman, Triptii Dimri, who plays the title part, is frequently seen wearing sarees in light pastel hues. As she is being abused, the camera cuts to her wearing richly coloured banarasi sarees with intricate embroidery.
Her saris are draped in the traditional Bengali athpourey fashion. She also has gleaming golden jewels on, which symbolises her statuesque presence in the Haveli. Her makeup also dramatically shifts, going from subtle lip colours to dark berry-hued lips and from light eyes to heavy kohled lids.
Ileana D'Cruz as Shruti in Barfi
With some natural Bengali styling done correctly, Ileana's adorable face blends within the Bengali atmosphere of the movie. She nailed the saree style with ease, wearing everything from vintage polka-dot sarees to cosy cotton drapes. The red bindi added a nice touch, and her outfit was finished off with simple chains and stud earrings.
The headbands, hoop earrings, cotton tees layered with shrugs, and every other thoroughly researched Bengali touch were clearly obvious in her attire for the movie, even for her western looks.