India won the first ODI by a significant margin as Bumrah unleashed his lethal best and was able to achieve his career best statistics.
The first ODI between India and England was played at the oval in gloomy circumstances with little to no probability of precipitation. The toss was won by the Indian captain Rohit Sharma, who chose to field first and said that his team preferred to chase the total as well as the favorable conditions would suit his bowlers. India had just won the T20I series, thus they were feeling confident going into this game.
This was the first time since the 2019 World cup final that Jason Roy, Ben Stokes, Joe Root and Jonny Bairstow played an ODI together
But the visitors had a major injury concern entering this game as Virat Kohli was ruled out before the start of play due to a groin injury. This injury meant that Shreyas Iyer was going to play instead of him at the number 3 position. For the hosts, they had their best line-up at their disposal, as Root, Bairstow and Stokes came back to the fold, having missed the T20Is. However, the absence of Virat Kohli due to a groin ailment before the start of play was a significant injury concern for the visitors going into this game. Due to his injury, Shreyas Iyer would play in his place at the number 3 position. As Root, Bairstow, and Stokes returned to the England team after missing the T20Is, the hosts had their strongest lineup available.
Indian seamers were relentless and were here to seek revenge for their test loss earlier this month
The ball was in the hands of Bumrah and Shami, two of India's top new ball bowlers, who were expecting to get some early wickets. Bumrah gave them the perfect start when he dismissed star batsman Joe Root for no runs after dismissing Jason Roy for a duck. Ben Stokes arrived quickly and left after edging a delivery to Shami, who took it well behind the stumps. After only four overs, England was effectively 7/3, which was not the best start for them. Bumrah and Shami's line and length were so flawless that they prevented the opposition from forming a partnership.
Bumrah was the pick of the bowlers as he took 6/19 (his career best) and dismantled the opposition with his variations
Rishabh Pant caught the ball after Jonny Bairstow, who appeared to be in fine form, tried to be crafty and grabbed it for his third catch. Livingstone and Butler attempted to maintain their all-out aggression and received some boundaries in the process. Livingstone was bowled by a beautiful inswinger from Bumrah, adding his name to the long list of ducks. Moeen Ali, who was coming at number 7, provided Butler with the running companion he needed to keep the runs coming. Before Moeen was out on a wonderful full ball by Prasidh, who also took the return catch, they had a modest partnership of 27 runs. The only person who could save England at this point was their captain, Jos Butler. He scored four after pulling a short ball from Shami, but he was caught by a top edge on the very next ball. Then, after bowling out Craig Overton, England was on the verge of being dismissed for their lowest total ever. That wasn't the case, though, as David Willey and Brydon Carse forged the innings' longest partnership, one that lasted 35 runs. Bumrah was reintroduced to the attack, and he dismissed the final two batsmen. India was given a 111-run target in 50 overs to win the opening ODI.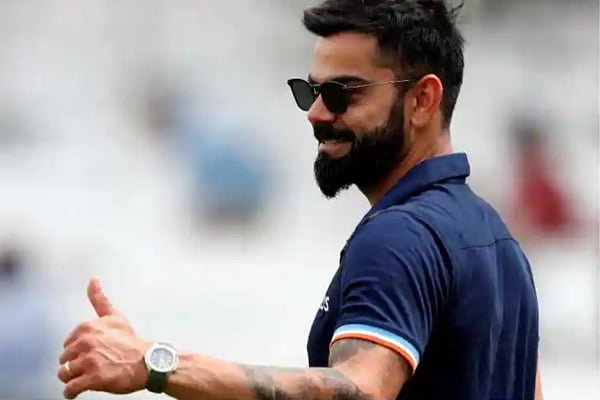 Virat Kohli is a doubt for the second game as well because of the less time duration between the two games
The Indian team's innings was launched by seasoned batsman Shikhar Dhawan and skipper Rohit Sharm. At first, they took their time and knew that they just needed to score 110 runs, therefore the overs remaining didn't matter. They settled down, scored runs, and hit the ball well all over the field. Earlier, we saw these duo get their team off to a strong start and work effectively together. Together, they have now amassed well over 5000 runs in ODI partnerships, which is a testament to their skill, cooperation, and capability. Dhawan was leading the innings from one end while Rohit took the initiative by playing every shot in his arsenal. All of his pull shots ended up on the boundary rather than in the fielder's hands, so luck was undoubtedly on his side. With ease, Rohit reached his fifty-point mark and also blasted 250 sixes in ODIs, the most of any Indian. With almost 25 overs remaining, India gained the upper hand with a victory margin of ten wickets.
Rohit Sharma looked in fine touch and shut his critics up by playing a sublime innings and took his side home
India completely dominated their opponents in every element of the game, demonstrating what they are capable of when they are playing at their most proficient level. Due to his performances in this format, Jasprit Bumrah has now surpassed all other bowlers to hold the top spot in the world rankings for One Day Internationals. He also received the Man of the Match award for his outstanding bowling, and he intends to keep his performances up in the format. The second One-Day International, between the two teams, will take place at Lord's Cricket Ground on Thursday.