Taapsee Pannu will portray the role of legendary women's cricketer Mithali Raj in her biopic which is set to release next month
Mithali Raj, was one of the greatest cricketer players of all-time not only in women cricket but in cricket history itself. She was the face of the revolution where people started showing interest towards women's cricket as well. She was used to be termed as the female Sachin Tendulkar because of her batting technique and the elegance with which she played all her shots. Mithali played cricket at the highest level for 23 years and retired this year itself after making her debut in 1999. She has innumerable records to her name and there are some records that one can't even think of breaking in their wildest dreams. She became captain of the Indian side in 2004 on a temporary basis and was then made permanent captain in 2005. She is still the only Indian captain to have led his side to more than one ICC World Cup finals (once in 2005 and once in 2017)
Mithali Raj captained the side for over 18 years and has played a pivotal role in women's cricket
Taapsee Pannu, who has been seen as the lead actress in many sports biopics before, would be portraying the role of Mithali Raj in the biopic. The trailer starts off in a scene where Mithali's childhood is shown and is watching her brother and other boys play cricket. She caught the ball as a spectator that was going to the boundary and her brother got riled up by this act. The cricket coach of her brother came to their house and in a funny incident, the coach (who is being portrayed by Vijay Raaz), came to talk about Mithali instead of her brother, which shocked the whole household. The trailer then progresses to show the hardships that Mithali had to face as an up and coming cricketer in India. She was also seen having trouble batting in her early stages of domestic cricket and other camps. Another scene showed how her coach had to put a small needle in her feet when she was a youngster to make sure she feels pain and knows what hardships you have to go through to become a professional cricket player at the highest level for India.
One of the scenes that shows how bold Mithali was as a player and as a captain was when she took the whole team to the board and requested for jerseys with their names on it instead of the men's team names. It turned out to be an ugly scenario as the board rejected their request in the most embarrassing way possible. The movie is set to show her career from the start and will also include the 2017 World Cup which was the biggest tournament that India were close to winning. The trailer ends where Taapsee is seen sitting for a press conference and a journalist asks her favourite male cricket player.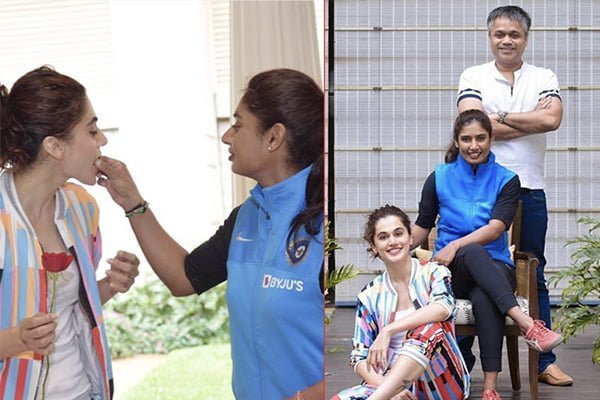 The trailer was well recieved by the fans and can't wait to hear the untold story of one of India's greats
The trailer was an exciting one and the fans have been showing their love for the film because Mithali deserves the respect after what she has done for women's cricket over the years. The movie is set to release on 15th July, 2022 and people hope the movie is as promising as its trailer. We all know the craze of the Indian public for cricket and bollywood and when it is combined, it makes up for a deadly combination as a whole.