Shoojit Sircar's Pink gave the country a glimpse of its fast losing conscience, and changed the dynamics of a power-packed subject for a fil, forever. But above all, it gave Bollywood a second coming of the gorgeous storehouse of Talent, Taapsee Pannu.
What memory from your childhood contributed the most in shaping your personality?
I always wanted to prove that I was at par with all the boys. Not that anyone ever made me feel otherwise, but I used to get into fist fights with boys in my first and second grade. Then as I grew up I started competing with guys for 100 metres, 200 metres, 500 metre races, and even in academics. I always wanted to prove that I was better.
Who, would you say, are you the biggest fan of?
I used to be a fan of different people at different points of time in my life. There was a time when I had a poster of John (Abraham) in my room, then Hrithik (Roshan); I was a huge fan of Karishma Kapoor at one point. But it was never like the obsessive fan thing where I could die for them or something. I liked them, so I would save their pictures. Even now I have those crush(y) feelings for a lot of them (laughs).
Like who? Who's your latest crush?
Right now I have a crush on two people, Andy Murray and Sam Claflin (You Before Me). And sadly both of them are married (laughs). Though, I wouldn't mind going on a date with them (wink).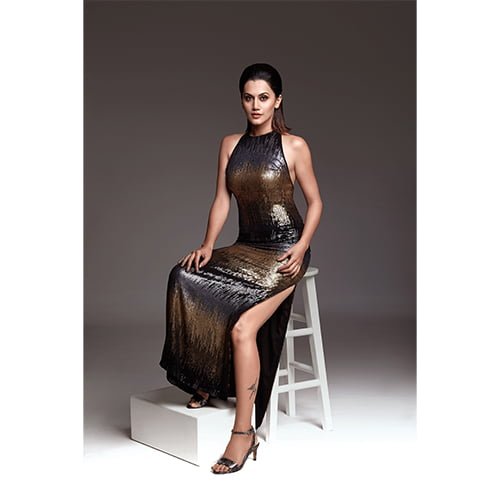 I always wanted to prove that I was at par with all the boys. 
You've studied computer engineering. Was it something that your parents wanted or you genuinely like computer languages and programming?
Neither. It was not like my parents wanted me to do computer engineering ever; I decided it on my own because I wanted to have a good professional degree. Funnily enough this was the fanciest degree that I could think of. I was sure that I didn't want to study medicine because I didn't want to spend 10 years of my life studying. That's when engineering came in. It was only after a year that I realised that I didn't want to do that either. But I completed my course because it would have been way too big a shock for my family had I dropped out after a year. I scored well, but I knew I didn't want to make my career in this.
With a 90 per cent in class 12, did you never think of joining DU?
I did (laughs). I even locked a seat in Hansraj college for B.Sc Computer Science as a backup till my entrance exam results came out. But I continued going to Hansraj for a month after I got to know that I'd been selected, because I wanted to experience DU. Despite knowing that I was going to be here only for a month, I was still attending classes (laughs).
What a dork!
Yeah… All the friends I'd made there were attending classes so I thought I might as well do the same. I would have gotten bored otherwise. The naya naya josh (laughs). But in that one month too I auditioned for their choreography society. I even performed with them in that one month. I just wanted to make sure that I don't miss out on any of the DU fun in that one month.
I used to be a fan of different people at different points of time in my life
What are your favourite hangout places in Delhi?
All my favourite hangout places are those which serve good food. Being a Delhi girl I can tell you which food item is best at a particular place… Momo's Point in Bungalow Road serves the best momos ever. Bikanerwala ki Kachodi not with chutney but with aloo ki sabzi. Gol gappas which are different for different areas Chacha ke chhole bhature and also Nathu ke chaney bhature Bittu tikke wale ki tikki Bharat Nagar ke dahi papri chaat New friends colony waley Al Bake ke Shawarma rolls. Gulati's ka all Indian food. Food is a pretty intense topic for me (laughs).
What is it that you don't like about your choice of career and why?
There are a couple of things that I don't like. First is dubbing for a film. I am a very spontaneous actor and I can't recreate the same emotions in the four walls in front of a microphone. Another thing is attending all these events, award shows and all, where you are categorised as an A lister, B lister or C lister. I would love meeting my colleagues at casual get-togethers, but I don't like those events.
WEIRD AND FUN
What is the weirdest question that you've ever been asked in an interview?
When I started a wedding planning company, some people just assumed that I was getting married myself. So, someone asked me if I was getting married and quitting the film industry for good.
What is the most absurd compliment someone gave you?
It's one of the compliments that I received after the movie Pink. A guy came out of the theatre and was like, "I want to save you!" What exactly from I don't know (laughs). But I took it as a compliment for my acting (hahaha).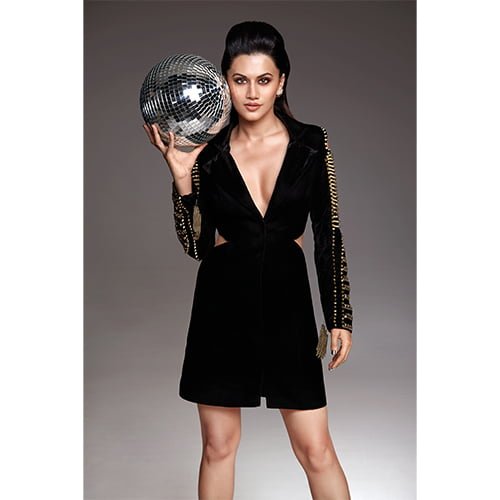 All my favourite hangout places are those which serve good food. 
What is the strangest thing you've ever eaten?
I've had a grasshopper. Fried it, put masala on it and ate it.
What is the funniest rumour you have heard about yourself?
I had once refused to endorse an alcohol brand. I don't drink much so I didn't want to endorse a product that I didn't consume myself. And there was an article in Hindi that read Hamesha nashe mein dhutt Taapsee ek alcohol brand ko endorse nahi karengi (laughs). I don't usually drink, so my family called and said you can tell us if you've started drinking (laughs).
What is that one place in India that you'd love going to again?
There is a place in the South called Antarvedi, where the border of Andhra Pradesh touches the ocean. It's a small place but I was blown away by its beauty while I was there on a shoot. I would really love to go there again. I don't like the mountain areas. I get very nauseous in the journey. Being from Delhi our concept of a holiday was always like, 'Let's go to Simla, let's go to Nainital.' So I was tired going on those winding roads; I used to be puking all the time.
If you had to choose an alternative career, what would that be?
I have something in my mind that I contemplate sometimes… to open a cafe. If not that, if you talk about a proper job then I'd go into marketing, because you can be very creative with that as well. That was my plan when I was preparing for an MBA. I just can't do a desk job.
I would love meeting my colleagues at casual get-togethers, but I don't like those events.
UNCOMFORTABLE QUESTIONS
Have you ever kissed or almost kissed a girl?
No. Wait… Yes! I had a dare to kiss a girl. My closest friend at that time was around and so I kissed her.
Have you ever been in a friends with benefits situation?
No, that doesn't happen at all. I am an old school aunty in these situations. I need to have a very strong emotional connection going on. In fact, I should be able to imagine the rest of my life with him in my head to take that person to bed. It's not that I start talking about it, but it should be practical enough to take that person there when I get into a relationship with him.
What would you do if you're ever caught in the act by your mom?
She will obviously know the one I'll be caught in the act with (laughs). I will obviously get embarrassed and will make sure to lock the door next time (hahaha).
What's your favourite cuss word?
The world famous cuss word that everyone uses these days, fuck! It's not really a cuss word anymore. It is a word to express grief.
Do you have a crazy fan story?
Yeah, there's one… There was this guy following me everywhere on the social media, a very ardent follower. He used to be very up to date with everything I was doing, so I felt nice. I happened to message him so he had an access to my direct messages on Twitter. Then he started telling me what to do and what not to do. If I wrote a post on Twitter he would sometimes say, 'delete this!' and ask me things like, 'who is he?' on random posts. I got a little offended, because this was obviously not something I had gotten in touch with him for. So I blocked him. Some days later when I was at an event, he turned up at the venue, somehow managed to dodge the security and got into the room I was sitting in with some other celebrities. He stood right behind me when I was giving an interview to a journalist and when I saw him I just freaked out. He had come with red eyes like he'd just burst into tears and kept saying ' "Taapsee… Taapsee… Taapsee…" like a freak. I was damn scared and had to ask the security to take him out.
Gulati's ka all Indian food. Food is a pretty intense topic for me (laughs).