Don't pack away your favorite summer clothes just yet. It's the season to get creative with your looks. Read on.
As the first signs of winter are almost here, does it really have to mean packing up all of our lovely summer attire for the winter? Nah! We don't agree. It's time to begin with the wardrobe woes and be creative with your outfits. With scarves, coats, turtlenecks, and boots, when you have too many clothes to wear, fashion merely becomes much more enjoyable.
So ladies, if you are wondering how you are going to pair those dresses and skirts this winter, we are here to help you with some stylish winter outfit inspiration right from your summer wardrobe.
Turtlenecks under… EVERYTHING!
Wear your turtlenecks under blazers, dresses, and everything possible.
We don't know if it has become a trend or not but we are loving the idea of wearing a basic turtleneck under everything and making it look even chicer. We don't need to emphasize more the fact that it is the ultimate hack for wearing any summer clothing on a cold day while maintaining the style quotient. From strappy summer dresses to T-shirts and crop tops, turtlenecks are a must-have for all the women who want to style their summer clothes even in winter. You can also pair a classic turtleneck with a pair of denim and throw a good-looking blazer over it for a casual get-together or a lunch date with friends.
Switch sandals for your favorite boots
You can swap your chunky sandals with knee high boots.
Small changes in your outfits can really enhance the look of your winter style and it doesn't even take a lot of your time. While styling your summer clothes for winter, it is essential to keep in mind the feel of the weather and thus, you can swap your chunky sandals with knee-high boots which will add grace and feel to your outfit while also keeping you warm. Make sure you own a good pair of boots to survive the cold days of the season.
Ripped Jeans are staying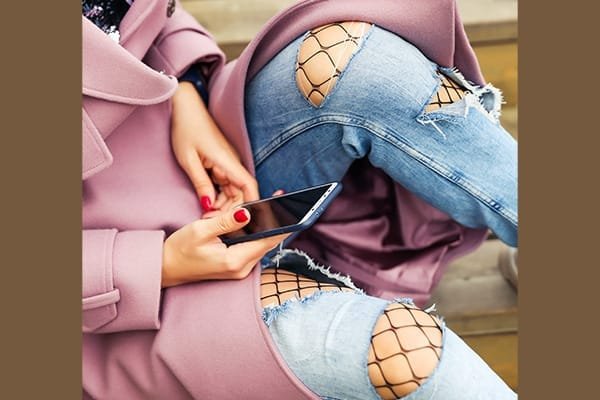 Pick from the vast variety of tights to keep you warm and give you a dapper look. 
The only thing you will need to nail that ripped jeans look in winter is a good warm pair of tights. Over the past few years, jeans have become a staple for every wardrobe so, there is no reason why one should not be able to wear them even on cold days. When it comes to keeping you warm, you can pick from the vast variety of tights to give it a dapper look.
Pair your leggings with the color of a cute sweater and there you go!
Who doesn't like skirts?
There are a thousand ways to style your skirts in winter by adding some more clothing.
Well, it wouldn't be fair to not include this piece of clothing in the list because there is so much one can do with skirts. Girls, don't pack away those cute miniskirts just because it is wintertime. From cute summer skirts to pencil skirts, from your favorite long skirt to denim ones, there are thousands of ways you can style them in winter by just adding some more clothing.
For starters, pick your favorite vintage t-shirt and throw it over the turtleneck while pairing it with your choice of the denim skirt. Don't forget to wear your tights underneath and pair this cool outfit with your boots.
Cute summer dresses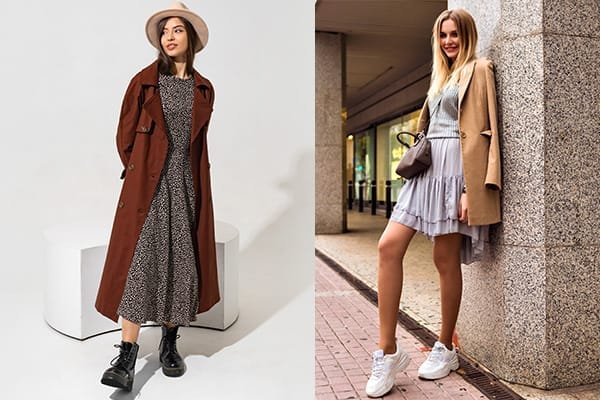 You can accessorize your summer dresses with fuzzy coats to keep you warm.
Wintertime gives you an opportunity to be creative with your style of dressing and there are so many ways you can mix-match your summer clothes, especially dresses to brave the cold. Keeping the monochrome look in mind, you can accessorize any of your favorite dresses with a cute fuzzy coat to keep you warm. Choose the right-length boots according to your dress to get an alluring look.