Alt Balaji's Most Controversial Show "Gandi Baat" again came into the headlines and is now because of its poster. Read on
Ekta Kapoor's most controversial show "Gandi Baat" is not new to the audience. From scenes, and stories to dialogues every time it makes a matter of controversy. There was a time when Ekta Kapoor, daughter of Bollywood's Jumping Jack 'Jitendra' was known for her iconic Family Shows like Hum Paanch, Kyuki Saas Bhi Kabhi Bahu Thi & Kasautii Zindagii Kay.
But, now whenever there is a controversy around explicit content, there is Ekta Kapoor and now she is in trouble again, and this time for the poster of her most controversial and explicit show 'Gandi Baat'.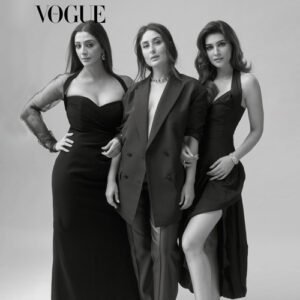 'The Crew' starring Tabu, Kareena Kapoor & Kriti Sanon which is in Production is produced by Kapoor's Balaji Telefilms.
Alt Balaji's Poster of Gandi Baat Season 6 has come under the radar of Netizens and become the eyes of the storm. After the circulation of the 'Gandi Baat' Poster around Social Media, Netizens are demanding the ban of the Web Series and slamming Ekta Kapoor for the type of content she produces.
The woman is depicted on a poster holding her finger to her lips while standing inside a lotus flower while wearing traditional Indian clothing. And there are two peacocks beside her. After seeing the poster, people pointed out the poster as similar to Goddess Lakshmi, who also sits on the lotus.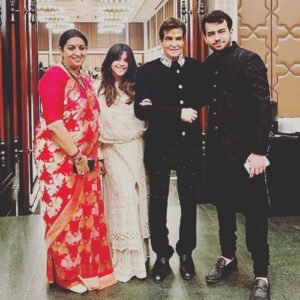 Ekta Kapoor with her father, nephew, and Smriti Irani.
The poster's striking resemblances to the revered deity has sparked a backlash, with a section of the netizens accusing the show's creators of mocking ad disrespecting Goddess Lakshmi through the imagery used. The controversy surrounding the poster has ignited a heated debate about artistic representation, cultural sensitivity, and the portrayal of regional symbols in the media.
The whole news is trending on Twitter and the user wrote, "Ekta Kapoor is the owner of Alt Balaji; Balaji is implied in the title, but the work is entirely the reverse; soft porn is given there. If you're not content with that, build a thumbnail that resembles Goddess Lakshmi but with a filthy woman sitting on a lotus instead of the goddess. Do all of you find it objectionable or is it just me that finds it objectionable?"
Dream Girl 2 will be released on 25 August 2023 which is also produced by Balaji Telefilms.
By trolling Director-Producer Ekta Ravi Kapoor, Another User wrote, "Ekta Kapoor is a very ill-mannered woman who is surrounded by such poor thinking, who has left no stone unturned to destroy our Indian Culture.
Gandi Baat is an Indian Adult Comedy Web series that is directed by Sachin Mohite. It is now removed from streaming platforms like Zee 5 and MX Player but it's available on Jio Cinema.