Fashion-icon, Shahid Kapoor leveled up his wardrobe and we have picked out most nailing outfits that will benefit men's wardrobe. Read to find out his styling tips.
Bollywood actor, Shahid Kapoor who made our head turn and our mind with his amazing moves and iconic characters. He has been part of some nostalgic Bollywood movies such as Jab We Met, Kabir Singh, Ishq Vishk, Kabir Singh and Jersey, still giving stellar performances. He even mastered his outfits and wardrobe collection, played with versatility, monochromatic, vibrant colors. Shahid Kapoor has kept his fashion tips up to date, here is why you should consider his styling tips.
Shahid Kapoor entered into fashion, after he getting married to Meera Kapoor. Well, his fashion outfits have left a lasting impression. He has been spotted with Meera and as an individual, for various and big fashion events. His standout style moments have proved men, it does not require much clothes to leave lasting and bold impressions. Be ready to grab Shahid Kapoor easy and iconic styling tips.
1. Traditional Ikat
Monochrome suit should be a collections in men's wardrobe.
Have you ever seen a monochrome outfit, appearing this good? This outfit has Black and white print pattern, it is designed by Sahil Aneja. Triple print left a powerful and bold impression, this monochrome hue has left us with a spectacular look. Though nothing can pull-off than a gold-studded leather brogues which adds a fine classic touch to men's outfit. 
2. Brown suits are in Trend!
Brown wide-leg pants are back in fashion.
Shahid Kapoor has played along with diverse suits; this one needs a mention. He brought the classics back in fashion, this fashion icon with his brown detailing blazer and brown wide-leg pants and white shirts gave us a glimpse of retro. Well, Shahid Kapoor is known for his fashion and style but he carries an easy-going style, for any man to carry.
3. Easy formal
Easy formal outfit that any men can carry.
Looking for an 'easy formal outfit', well this outfit of Shahid Kapoor should be considered. Nothing beats an easy going, comfortable and Indian kurti. An Effortless chic outfit which is styled by Anisha, let's make this easier for you men, you can easily pull off this look with your embroidering kurta and wide leg pants, tuck your traditional kurta under your wide leg pants and discover your own ''Easy chic and formal outfit" for the day.
4. Parijat Set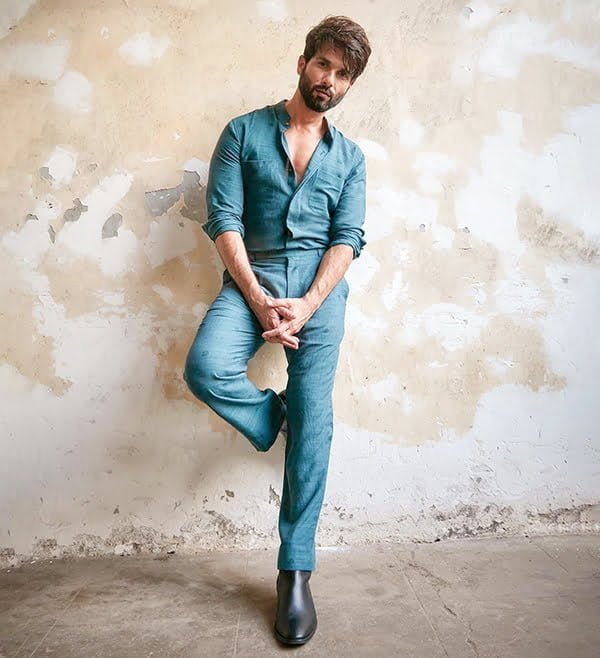 Shahid Kapoor styling tips will make your style firm.
Shahid Kapoor rolls up another outfit with his firm style, well we cannot emphasize enough the fitted outfit does make a bold and firm impression. This outfit has calculated all the density of hotness, Parijat Set in teal color, styled by Anisha and Divya Mehta and men's black boots gives the perfect edge to his personality and entire outfit. Fitted outfit and black boots can make your outfit effortlessly attractive. 
5. Summer causal outfit
Shahid Kapoor dig out his styling tips for this summer.
Nothing as useful as a timeless wardrobe for men, rarely anyone shares such tips but Shahid wardrobe has often revealed such tips. Shahid's summer outfit perfectly describes how to put together a fine outfit for summer. He wore Bomber jacket(sunflower spring hooded jacket), classic light green fitted shirt and denim, he is beating heat with this light outfit.