Twilight fame Robert Pattinson is expecting his first child with girlfriend Suki Waterhouse. Read out to know more.
Hollywood actor Robert Pattinson and his girlfriend Suki Waterhouse are moving to the next chapter of their life— Parenthood. Yes, you heard it right! The couple are expected to have their first child together. This big news was announced by the singer Suki Waterhouse at her concert. The singer flaunts her baby bump while performing at a Corona Capital Festival in Mexico. This is an annual music festival celebrated in Mexico City since 2010. The star looked stunning in a shimmery sequin body-hugging mini dress. The beautiful pink mini dress has a lace bralette with a plunging neckline. She paired it with a faux fur overcoat. Her shimmery gold knee-length boots complemented her whole look.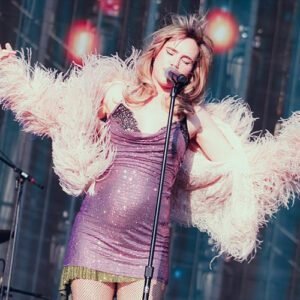 This news created a buzz around fans and took the internet by storm. The fans and followers of the couple are filled with nothing but excitement and joy. The star was giving a captivating performance at a concert where her bump was displayed. She stated, "She came to a concert wearing all sparkly clothes with the thought that it might distract the audience from something else that's going on". The 31-year-old singer playfully added "I'm not sure it's working" with a smile on her face then she quickly moved on to another song.
The audience was so happy with her performance as well as the news. Their fans flooded their timeline on platform X (formerly known as Twitter) with congratulations and good wishes. One of the fans said "So happy for the couple", and another one said, "I wish the couple so much happiness and a healthy child". Twilight star Robert Pattinson started dating singer-cum-actor-cum-model Suki Waterhouse in 2018. The couple always kept their personal life away from the limelight. They rarely made an appearance together. The couple made their relationship official when they walked the red carpet together in December 2022. According to sources, Robert and Suki bought a home together in California in February this year.
On the work front, Robert Pattinson will be seen in Bong Joon-ho's Mickey 17, alongside Naomi Ackie. The plot is based on the book by Edward Ashton. The actor will also be seen in the second part of "The Batman".