Hop in and let's take a look at how Gallery Dept handbag has been lending its contribution to internet memes instead of any style contributing to fashion connoisseurs' closets!
Living in a contemporary world, it's very shocking that renowned brands are committing such blunders. Gallery Dept has managed to produce a 100% plastic poly tote bag. The brand's aesthetic is one of art and DIY: the brand boasts collections decorated with paint splatters and brushstrokes, tie-dye patterns, patches, askew prints, and thought-provoking slogans. But this time we set our eyes on the "Logo Patched Transparent Tote Bag" of their collection whose fashion is clearly leaning towards plastic. They have also very boldly mentioned that "This product may have wrinkles, scars, scratches that are inherent characteristics and natural beauty of this material". Like does your material really have beauty in it? Keeping everything aside, this "tote bag" doesn't have enough space to carry it comfortably because of less space in the handles.
Logo-Patched Transparent Tote Bag By Gallery Dept.
This made in Los Angeles bag is literally made of a 100% plastic. This exclusive bag could accompany you to a grocery store, although it'll provide a peek at all the stuff you have been buying. But this bag definitely can't be taken to the office because it's see-through. You could carry this bag at a party, but keep in mind that it's transparent and people will easily see what's in your bag. Their collection majorly uses a slogan on their pieces saying – "Art that kills". This time their art literally kills with its fashion. Such a wacky handbag has much to do with memes and the internet culture at large. By using such fashionable things as this plastic handbag, one is bound to turn their closet into a full-fledged meme account. In our view, it's absurd to spend so much money on something made entirely of plastic.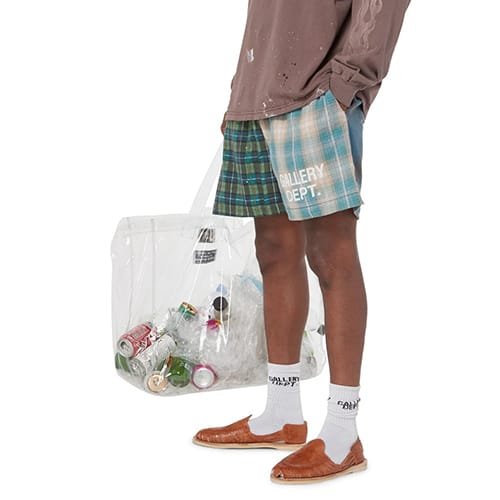 Fashion Connoisseurs Do You Approve Such A "Tote Bag" Which Is Killing With It's Beauty?
People are banning plastic bags because of the major price our environment pays for its use. And Gallery Dept is adding "plastic handbags" to their collection. Plastic bags are not only difficult, but very costly to recycle. Every time plastic is recycled its quality decreases. The same piece of plastic can only be recycled about 2-3 times before its quality also decreases to a point where it can no longer be used. On the one hand, people are trying to make things in an eco-friendly manner and on the other we have Gallery Dept. still walking the old, plastic-laden road. What we really want to ask is what were you thinking while launching such a handbag. We understand there is no limit in fashion, but a little concern for the environment poses no harm. Now, if you like carrying a plastic tote bag then you can take it to parties but be mindful enough of the fact that it gives a glance at all the stuff you are carrying.