Cartoon shows that have you tripping for those nostalgic days.
Do you find your cartoon collections of the 1990s or 2000s show special? Well, nobody can deny that air of breathing and spending relentless time on these cartoons, that made our childhood. Over the years, cartoons have been visually appealing and interesting, the first thing to do after reaching home from school, was to watch these TV cartoons.
Cartoon channel that still make us feel highly overwhelming are Cartoon Network, Nickelodeon and Disney. These major Cartoon channels have been our ultimate watchlist, though not to deny Netflix have taken this generation of interests to TV shows but still, reminders of these amazing cartoons still have the same impact on us. Though we usually expect cartoons to be funny, chill and a sweet memory, this list will break you with hidden references of cartoons. Ready to recall these cartoons and ruin your childhood?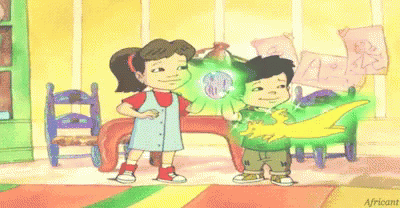 Dragon Tales cartoon, who does not remember this?
Dragon Tales is one of the best childhood cartoons, it will make you say "I wish, I wish with all my heart to fly with dragons in a land apart". Brown kids who have spent most of their time watching this cartoon, can you guess how much episode dragon Tales overall contains? It has three seasons and it overall consists of 93 episodes. Max, Emmy and Enrique, who explore an entirely new world with dragons.
Spongebob have dark theories, get to know here.
SpongeBob is the first animated character which is entirely created with wax. These cartoon characters such as SpongeBob, Squidward, Plankton, Mr. Krabs, Patrick Star, Sandy, Pearl and other characters, made the cartoons more memorable. Though there are rumoured theories that Spongebob character all has a mental disorder which even include 'bipolar disorder'.
Codename: Kids next door has coolest gang ever.
Codename was one of the coolest cartoons ever, Kids next door who fought against villainous adults, had the coolest treehouse which made every kid build their own gang and a secret treehouse.
Who does not remember Winnie the pooh? We all remember a yellow teddy bear pooh, who loved to eat honey and was one of the most comforting cartoons ever. Winnie the Pooh characters such as Piglet, Tiger, donkey. You will be surprised, Winnie the pooh is rumoured to be back again with a more horror approach (slasher film), this new version of Winnie the pooh will destroy your childhood memory.
Kim is one of the coolest and adventures character ever!
Some cartoons cannot be remembered, but this stayed in every Indian kid's memory. This animated cartoon was created by Mark McCorkle and Bob Schooley. This Disney cartoon left its legacy, from its comedic lines, fighting crime and bullies, Kim made anything possible. While watching this cartoon in childhood days you might not realise, it highlighted a feminist's protagonist and broke the idea the feminist's fighter is cool. The Kim Possible cartoon was even put on hold after it's third season.
Scooby dog character is the actual good detective.
Who were born after the 60s, knows Scooby Doo quite well! Scooby characters contain 4 teenagers and a pet dog, nobody can deny the fact Scooby was the best detective cartoon of all time. Even their iconic 60s theme song was good. This fictional and mystery cartoon is remembered by 1990s kid.