Ghoomer Trailer: R Balki directed Ghoomer starring Abhishek Bachchan, Saiyami Kher Sports Drama Film will release on August 18
The Ghoomer trailer, which stars Saiyami Kher and Abhishek Bachchan, provides a glimpse into the narrative of a cricket player who loses her right arm in a car accident. Abhishek portrays her coach, whose goal aim is to develop her into a successful cricket player.
We can already tell from the Ghoomer Trailer that it looks like it will be both touching and motivational.
The story of an Indian cricket player who lost her dominant hand due to a life-changing event is followed in the video. But then a dedicated coach comes into her life, and he becomes the inspiration for her makeover.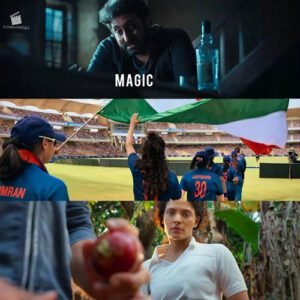 In the first moments of the trailer, a buzzed Abhishek Bachchan asks, "Logically, can someone with just one hand play for the country?" He responds, "No. However, life is not a logical game. This is the magic game in real life.
We then meet Anina, who was chosen for the Indian cricket squad shortly after suffering an accident that caused her to lose her right hand. Anina is depressed and contemplating suicide after having her life turned upside down and having all of her goals crushed when her coach, played by Abhishek Bachchan, enters her life as a ray of hope.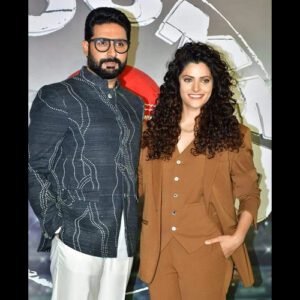 Despite all the difficulties, Bachchan manages to teach Anina how to play the piano with her left hand. In the video, we also saw Shabana Azmi, who plays Saiyami's mother, and actor Angad Bedi, who plays the character of Saiyami's love interest. Amitabh Bachchan will be seen in a cameo but he will not share screen with son Jr. Bachchan
The central narrative of "Ghoomer" is based on the amazing true story of a late Hungarian shooter who overcame hardship after suffering a severe hand injury to win two Olympic gold. Expect standout performances from Saiyami Kher as the paraplegic bowler and Abhishek Bachchan as the oddball cricket coach.
Reacting to the trailer, netizens appreciating Junior Bachchan for his script choice, and the public is really looking forward to this film only because of the duo Abhishek Bachchan and R Balki who is returning together after 14 years. They worked together for the National Award Winner 'Paa'.
Aside from R Balki's brilliance, Amitabh Bachchan's appearance has everyone's attention. Abhishek said Amitabh Bachchan is R Balki's "lucky charm" in reference to the same during the Ghoomer trailer releasing ceremony.
Abhishek stated, "R Balki (Ghoomer's director) will never do a movie without Mr. Amitabh Bachchan, so he finds some way to include him in a movie. Even if you watch his most recent movie, he always finds a cameo role for him to play.
"One thing Balki told me when we were producing Paa is that I'll never make a movie without Amitabh Bachchan," Junior Bachchan continued. This is therefore our ode to him. In the movie, he makes a cameo. We're regrettably not captured in the same frame.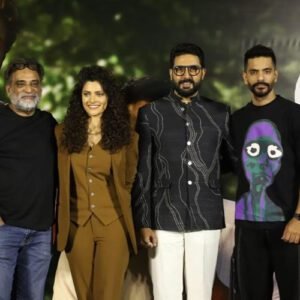 Ghoomer will premiere at Indian Film Festival of Melbourne and Abhishek Bachchan is all set to make his comeback on Big Screen on 18 August 2023.