Tim Hortons, is the latest International coffee brand that has entered India with its first stores being in the Delhi NCR region
The national capital region's Gurgaon and Saket outlets of Tim Hortons, a coffee and baked products franchise from Canada, launched on August 11 in India. Tim Hortons, which is well-known around the world for its distinctive coffee, drinks, and cuisine, has developed a number of customized menu selections for the Indian market. A segment of the menu is devoted to made-to-order meals and baked products, where breads, spices, and toppings may be customized. Popular beverages include the French Vanilla, the Iced Capp, a blended frozen coffee beverage, and bite-sized pieces of classic doughnuts called Timbits. In the Delhi-NCR region, Tim Hortons has already attracted a sizable fan base, as shown by the lengthy queues outside each of their outlets. Tim Hortons' CEO announced their intention to establish hundreds of locations across India over the next few years in March of this year. In Delhi, they have already set up three outlets, and a fourth is on the horizon. By building outlets in Mumbai, the nation's financial centre, they would now be seeking to increase their presence throughout the nation. However, as compared to its rivals, the company's products are fairly pricey. Therefore, the question on coffee drinkers' minds is: What does Tim Hortons have to offer that its counterparts can't?
The ambience of the new outlet in the Delhi-NCR region is amazing 
For those who don't know, Tim Hortons is the biggest quick service restaurant operator in Canada. To expand the brand into India, it has collaborated with AG Café, a joint venture firm owned by Apparel Group and Gateway Partners. AG Cafe currently holds the master franchise rights for Tim Hortons in India, Bangladesh, and the Gulf Cooperation Council, which comprises Bahrain, Kuwait, Oman, Qatar, Saudi Arabia, and the United Arab Emirates. Recall that Navin Gurnaney, the former CEO of Starbucks India, was chosen by AG Café last year to oversee Tim Hortons in India, where the company expects to add around 250 outlets over the course of the following five to six years. At the same time as Tim Hortons is expanding in India, other coffee brands like Starbucks, Costa Coffee, and Barista are also seeing massive growth. The prices of coffee offered by all these brands are on the higher end and people are seen drinking coffee from their favorite brands at least once a day. To win over coffee lovers who love to drink coffee every day, you need to have the right taste and the right blend along with the right mix that is preferred by the customer. Tim Hortons would be competing with the likes of Costa Coffee, Starbucks and Barista in the coffee range but their direct competitor would be Starbucks who has the same exact range as Tim Hortons.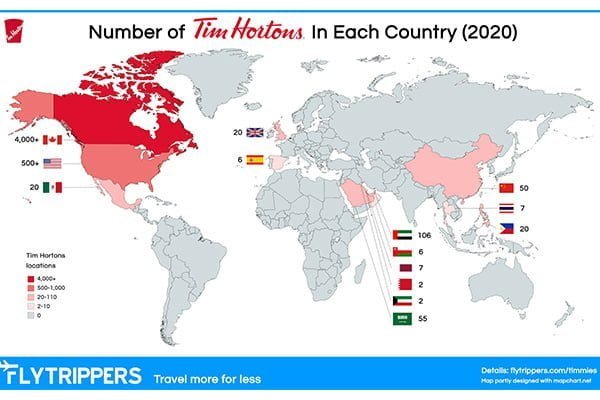 Tim Hortons has certainly expanded well and has been successful all around the world
The most preferred coffee place Starbucks has a wide selection of hot beverages, hot teas, hot coffees, frappuccinos, cold drinks, cold coffees, and cold drinks with iced tea. These beverages come in many different variations, and you may customize everything from the sweetness to the flavours.in India is undoubtedly Starbucks as of now, but Tim Hortons is giving them tough competition. The real reason for the fame of Starbucks in India was their culture of writing the customer's name on the cup of beverage they ordered. Everybody in India, at a time, was posting their cups and showing off by going to starbucks and this resulted in increased sales for the company. They have made this culture a trademark of their own and have built and growed on it since then. The most well-liked beverage is the Double Double, which is just an innovative blend made with two creams and two sugar. Everyone's favorite beverage is it, and the rest is up to personalization and French vanilla. These two beverages are highly recommended. Original blend coffee, decaf coffee, steep tea, hot cocoa, and the classic, timeless cappuccino and latte are other popular choices in hot beverages. For those hot days, there are many alternatives for cool drinks, such as Iced Capp, which offers a variety of flavor options in addition to the traditional Iced Coffee. Other than coffee, there are many different cooler possibilities. The addition of mini donuts or Timbits is a wonderful snack as it provides something to enjoy your beverage with.In terms of price, Tim Hortons is a bit more on the expensive side and rightly so, as they offer much more on their cuisine as a customer can go for proper breakfast, lunch or dinner and have great dishes that they serve as well.
There is no doubt that these two companies will rule the coffee market in India for a long time
Divergent viewpoints exist on every topic. Everyone has a particular preference for coffee and different adaptations that are appropriate for their daily cup. People like Tim Hortons for their morning coffee since they can get it at the locations that are most convenient for them. Even with large lines, the setup is quick and precise, and while individuals drive to their separate workplaces, they enjoy their coffees and some sides. In terms of Tim Horton's comparison with Starbucks, they offer a bit more than the latter and the public can be seen switching to the Canadian brand. But it cannot be said that they are overrated in India as it is a new brand and people love to buy from new brands, therefore the hype was expected. Starbucks saw a similar hype when they first opened stores in India, and Tim Hortons is seeing just that. The population size of the country has increased as well which might have been the factor towards the "overrated" comments. There is absolutely no doubt that Tim Hortons will be successful not only in India but also across the world. Their first step of growth in India has been a success and would look to build on from this.