Do you also get tired and spend this weekend at home? So, here we recommend some amazing shows or movies to watch this weekend. Read on! 
As October month is about to end, we all celebrated Navratri and Dusshera with much enthusiasm and now looking forward to Diwali. But before heading onto Diwali preparations we need a break from our hectic life. Sometimes, a small break is necessary to enjoy the moment to its fullest. So, if you're also planning to spend your weekend at home all alone or with your close ones, we have curated a list of some amazing OTT shows and movies to binge-watch and chill at home. From gripping dramas to thrilling sequels, here are six shows/movies that'll keep you entertained. 
Let's check out the list:
Kaala Paani
Type- Series
Streaming on- Netflix
Kaala Paani is a survival drama. The show is about a secretive disease outbreak in the Andaman & Nicobar Islands in 2027. People's desperate efforts for survival strike with a race to find a cure. This drama will bring back the memories of the COVID-19 pandemic when people desperately made efforts to survive and wanted to reach their families somehow. The show will give you a chill down the spine. The entire cast gives their best performance that will keep you engaged and intrigued. 
Loki (Season 2)
Type- Series
Streaming on- Disney Plus Hotstar
After the mind-bending events of the first season, Marvel's "Loki" is back with another season. The god of mischief Loki, played by Tom Hiddleston, continues to navigate the multiverse, and the stakes are higher than ever. With twisted storytelling and a dash of humour, this show continues to be an audience's favourite. "Loki" Season 2 promises more surprises, twists, and an exploration of new dimensions in the Marvel Cinematic Universe.
Khushi
Type- Movie
Streaming on- Netflix
"Khushi" is a heartwarming tale of love. The story is about two lovers whose families are against each other. It's helmed by Shiva Nirvana. This Indian film explores the complexities of relationships and the importance of respect, support, and mutual understanding. The movie's engaging plot, beautiful cinematography, and stellar cast make it a delightful cinematic experience for those seeking an emotional and heart-touching story.
Aspirants
Type- Series
Streaming on- Amazon Prime Video
The first season of "Aspirants" was a big hit, and fans have been eagerly waiting for the next season. This series, set in the world of competitive exams such as UPSC, follows the lives and aspirations of three friends. It offers a touching and relatable portrayal of the struggles and dreams of Indian youth. With Season 2, the story is expected to evolve and captivate audiences with its sincerity and depth of the competitive exam world.
Sultan of Delhi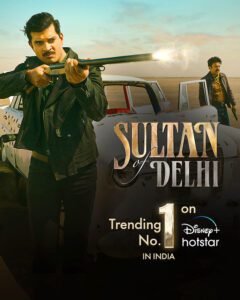 Type- Series
Streaming on- Disney Plus Hotstar
Sultan of Delhi is a crime-thriller series based on the rise of criminals in 1960s Delhi. The story is about Arjun, a 1947 partition survivor, who witnessed the death of his family during the partition. As he grew, deliberately trapped in the world of crime. The show is all about crime, power, ego, betrayal, and the rise of empire. In the midst of violence and betrayal, Arjun's love story with Sanjana adds a warm feeling of autumn. 
Permanent Roommates (Season 3)
Type- Series
Streaming on- Amazon Prime Video
"Permanent Roommates" returns for a third season, and it promises to continue the delightful rom-com saga of Tanya and Mikesh. This show has been famous for its charming characters and witty humour. It's a story that portrays the complexities of relationships and commitment. With Season 3, viewers can expect more laughter, romance, and endearing moments.
Happy binge-watching and have a great weekend guys!