Red Sea International Film Festival spreads out the red carpet for superstars from the entertainment industry as it creates cinematic history.
The red carpet of the Red Sea International Film Festival was graced by the presence and glamour of Hollywood, Bollywood, and Arab stars at the opening ceremony, which began ten days of glitz and glamour on December first. Keep on reading to know more about the exclusive moments that took place at the event.
US icon Oliver Stone and Guy Ritchie.
While Sharon Stone, Luca Guadagnino, Oliver Stone, Guy Ritchie, and Mohammed Al Turki, CEO of the Red Sea International Film Festival, were present for the opening night gala showing of Shekhar Kapur's romantic comedy 'What's Love Got to Do With It?' starring Lily James, Bollywood stars like Shah Rukh Khan and Priyanka Chopra Jonas also made spectacular entries at the film festival. While Shah Rukh was given an honorary award for his contributions to the cinema business, Priyanka looked glamorous in all her red-carpet glory at the festival's opening ceremony. Their admirers are unable to contain their excitement after watching videos of them during the festival, which is creating quite a buzz around the internet.
Priyanka Chopra and Shah Rukh Khan graced the event with their presence.
In addition to Bollywood superstars, Egyptian icon Yousra, Indian composer A.R. Rahman, and Kajol, the event featured appearances by US actress Sharon Stone, British director Guy Ritchie, US icon Oliver Stone, Lebanese director Nadine Labaki, and US director Guy Ritchie. Egyptian star Salma Abu-Deif, Saudi actress Mila Al-Zahrani, Egyptian actress Tara Emad from Montenegro, and Lebanese celebrities Zuhair Murad and Maya Diab from Lebanon also graced the global festival with their presence.
As one of their iconic romantic-drama film 'Dilwale Dulhaniya Le Jayenge was previewed as the opening film of the evening at the event, the most loved Bollywood Jodi Shah Rukh and Kajol stole the attention at the film festival, when SRK recreated a scene from the movie. It's a joy for SRK and Kajol's fans to witness the pair gracing the stage with their endearing presence, as seen by the numerous photos and videos from day one of the events that have been surfacing online.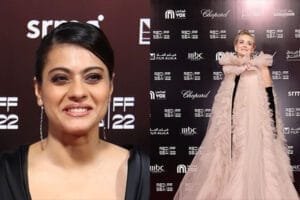 Kajol Devgan and Sharon Stone
The film festival is being held at The Ritz-Carlton hotel this year, which has a beautiful view of the Jeddah Waterfront. The group of professionals who keep the motion picture business running gathered for a glittering evening. From great directors and producers to talented actors, the evening saw the presence of exquisite flair.
The creative theme for this year "Film Is Everything," celebrates the culture of movies as a medium that not only unites civilizations but also encourages young artists to express themselves and allows individuals to develop.