Have you found your favourite slang yet?
We all secretly enjoy using certain slang when texting, but frequently we don't fully understand the meaning of certain expressions. The scenario would become a little problematic if we used them without realizing it. It can be challenging to stay updated, though, as popular internet slang phrases change quickly.
Dope: awesome or high quality – that movie we watched night was dope.
SO: Significant Other – Valentine's day is approaching, what are your plans to celebrate it with your SO?
Secretly, we all like using these modern-day abbreviations.
BAE: Before Anyone Else – You know calling your girl 'BAE' will make her smile.
BRB: Be Right Back – I'll BRB for tea after this call.
NGL: Not Gonna Lie – NGL, but that dress last night was not the perfect match for the event.
IRL: In Real Life  – Apart from fiction, I don't like mysterious guys IRL.
IDK: I Don't Know – IDK what you're talking about.
IDC: I Don't Care – IDC what other people think about it.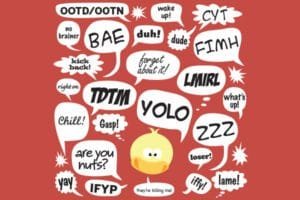 Out of all these lingos, which one is your favourite?
WTTP: Want To Trade Pictures – well, if that guy you met in the club texts you WTTP, you know what he is talking about.
TDTM: Talk Dirty To Me – Are you sending this to your Bae tonight?
OOTD/OOTN: Outfit Of The Day/Night – This one is when you want to flaunt your classy look in front of the world.
YOLO: You Only Live Once – You should never let go of your adventurous bucket list, because YOLO!
LMIRL: Let's Meet In Real Life – Are you on Tinder? If yes, you might get this text soon.
IFYP: I Feel Your Pain – I've been in the same situation once, IFYP.
ZZZ: Sleeping. Bored. Tired. – Isn't that everyone's Monday Mood?

OOTD = Outfit Of The Day
WYWH: Wish You Were Here – the weather outside is too good and you're missing your partner. This is how you can let them know how much you want to be with your baby.
FIMH: Forever In My Heart – 'Mom, I love you so much and you will be FIMH', that's how you can make your mum smile through a text, although the next thing she'll do is google that.
YGTR: You Got That Right – that response when you are about to explain to someone the whole thing but they understand it right at the beginning. Yeah YGTR!
SOML: Story Of My Life – Wake up. Go to work. Come back. Sleep. That's the SOML.
CYT: See You Tomorrow – that's it for today guys, CYT.