We at FHM are on a mission – a mission to help you look great! Which is why, we have some of the best limited-edition watches that'll help you accomplish that mission.
Hunting down new watches might be a cumbersome task, but it is one that has to be accomplished, nonetheless. And as exciting as 'mission find a new watch' is, it is equally daunting – and tiresome. The sheer volume of options and choices on offer can be overwhelming. And navigating the murky waters of watch complications and features is pretty daunting. But, that's why we're here: to make things easier for you. That's why we've done most of the work for you and compiled a list of some of the best watches out there. This time, we have some amazing, limited-edition watches that have everything one could ever hope for in a watch.
Yes, these are a bit on the pricier side, but then, good things always are, right? Whatever your taste, or style is, we assure a watch is available out there, perfectly suited to your needs. And these are the watches that we recommend you add to your collection, preferably right now, because limited-edition pieces tend to sell out quickly. And these watches are on a mission: a mission to make you look good! Let's take a look.
1. ORIS, Coulson Limited Edition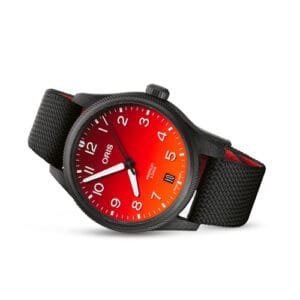 Oris, Coulson Limited Edition
Made by Oris in partnership with Coulson Aviation – known for aerial firefighting, this watch has quite a few connections with fire. The watch features a theme of firefighting and aviation and is inspired by the fight against devastating wildfires. This is reflected clearly in the gorgeous fire gradient dial. Available in a limited number of 1000 pieces, the watch was made using a carbon-fibre case produced using an innovative 3D printing process never seen before in watchmaking. The technology was devised by Switzerland's prestigious ETH Zurich University, giving a new meaning to Swiss watches. The fiery gradient orange dial just elevates the look of the watch even further. Powering the watch is Oris's game-changing Calibre 400 five-day automatic. The watch has a five-day power reserve and is highly accurate – to -3/+5 seconds a day. An automatic winding powers the movement. It is also water resistant up to 100 meters. We don't know about you, but this watch is definitely calling out to us!
2. Ulysse Nardin, DIVER NORRØNA Artic Night
Ulysse Nardin, DIVER NORRØNA Artic Night
A timepiece inspired by Norwegian nature – the Fjords and volcanic rocks – the colour palette of this sustainable watch is something else. It also invokes the deep, dark, ancestral geological formations that happen to be the Earth's oldest, most well-preserved sedimentary rocks. This watch might appear simple, but it sets the bar high with its performance and sustainability. Limited to just 29 pieces, each watch is sold with an Arktis GoreTex Pro Norrøna jacket – definitely worth the price tag! Each piece will also be numbered from 1 to 29, making it truly unique. This partnership between Ulysse Nardin and Norrøna demonstrates their commitment to the use of alternative materials since both these companies share the same objective – safeguarding the planet's future. This reflects well in the watch as the side case and the case-back of the watch are cut from 40 percent Carbonium and 60 percent nylon sourced from recycled fishing nets. And the handsome, sandblasted dial just makes the watch absolutely gorgeous. It has a power reserve of 60 hours and runs on an UN-118 Manufacture movement Caliber. The Sapphire glass dial is 44m and the strap of the watch is also made from 100 percent recycled fishing nets. Looking good and saving the planet at the same time? A win-win in our eyes!
3. Franck Muller x Bamford Watch Department, Popeye inspired Vanguard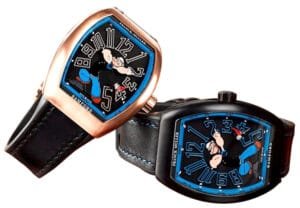 Franck Muller x Bamford Watch Department, Popeye inspired Vanguard
If the tune of Popeye the sailor man still makes you smile, or if you're a spinach-eating fiend, this watch will really catch your attention. For those of you who have never heard of him, Popeye is an iconic, spinach-eating sailor, known for his adventures. He is also a children's cartoon character. This time his journey has taken him straight onto a watch dial! A show-stopping timepiece available in two options – black titanium or rose gold case – you can very much pick out your own favourite Popeye. The Vanguard already had a captivating shape and clean and innovative aesthetics – the ideal watch for a cartoon-themed creation. Watch Popeye flex his ginormous muscles on a 60-piece black titanium or a 25-piece rose gold edition. You will also be able to see Swee'Pea crawling around on the dial as the seconds hand. It's a stunning and sporty timepiece with a unique design, it also comes in a very creatively packaged box that enhances the beauty and uniqueness of this collectible watch.