Sony TV's reality show India's Best Dancer Celebrating 'Cinema Ke 110 Saal, Bemisal' Special, Farah Khan will grace the show.
As Indian Cinema enters its 110 Years, the upcoming episode of India's Best Dancer will celebrate the glorious run with 'Cinema Ke 110 Saal Bemisal' Special Episode in the upcoming episode. And, the show will have a special guest to grace the episode.
Choreographer turned Director, Farah Khan Kunder will show her presence as the Special Guest in the show and will reflect upon the Guru-Shishya Parampara of the show, as will reunite with her student who is also a Choreographer, Geeta Kapur, popularly known as 'Geeta Maa'.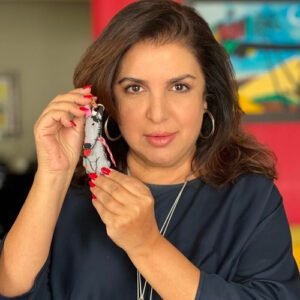 Farah Khan will grace the upcoming episode of IBD3. 
Talking about the unique prepositions of the format, wherein the mentor dance with the mentee, Farah said, The good news about India's Best Dancer 3 is that they uphold a guru-shishya tradition that, in my opinion, has been lost in more modern times. We do not value this tradition enough. Even though he did not instruct me, Michael Jackson was my mentor.
She further stated: A guru is someone you look up to and learn from. As they show advances, I can see so many mentees turning into gurus, and soon, I'm sure. One of them will be seated in the judge's seat, I'll see. There is a terrific opportunity for them to learn, grow, and respect what they are doing.
The contestants will be shown honoring the development of Indian cinema, together with their choreographers. They will be seen performing exceptionally well to the tunes of Stalwarts like Amitabh Bachchan, Kishore Kumar, Raj Kapoor, R.D Burman, Shammi Kapoor, and Bollywood's most iconic jodis like Dharmendra & Hema Malini, Rishi Kapoor & Neetu Kapoor.
Remo D'Souza, Geeta Kapur & Terence Lewis from the Grand Premiere of IBD3. 
According to Geeta Kapur, "Every student aspires to at least try and reach their guru's stature." Geeta Kapur expresses her feelings on sitting next to her mentor, Farah Khan, on the judges' panel. Being on the same panel as her and seated next to her is a win for me. These events are what I look forward to since they reconnect me with my past and my beginnings.
We hardly get the time to spend with each other as we both are busy with our work schedules, so I got extremely overwhelmed with every opportunity we get to meet each other. She epitomizes the changing eras of Indian cinema, and because we are commemorating 110 years of cinema, I can't think of a greater individual to be here on the show. She introduced a trend, a fresh approach to recording music and exhibiting films. She has always been a trendsetter. It is always a great joy to work under her because she has pushed me to try and create something new, and that's something that has always kept me going, she added.
Sonali Bendre will be seen in Broken News Season 2 along with Jaideep Ahlawat, Teaser Out.
It would be great fun watching this special episode on 110 years of Indian Cinema especially when the guest is Ace Choreographer-Director Farah Khan Kunder. India's Best Dancer Season was started in 2020; the show is currently in its 3rd season judged by Geeta Kapur, Terence Lewis, and Sonali Bendre.
For those who don't know What is 'India's Best Dancer'? Indian Best Dancer is Dance Competition, Reality Show which is produced by Frames Production India. The show aired on Sony Television Channel and it is also available on Sony LIV. The program claims to be the most difficult dancing reality show on Indian Television, and it airs every Saturday and Sunday at 8 pm on Sony TV Channel.